On Samhain (October 31) each year, a practice our group adds to our ritual is that we go into the dark earth labyrinth where a large mirror is propped on a table. In candlelight, we look into the Mirror of Truth and then pull a Tarot card from the table where they are spread in front of the mirror. This card tells us what our focus should be in the coming dark of the year when introspection and insight are key.
This year, I almost forgot to pick a card. Just before we went into the labyrinth, I enacted an intense magical component of the ritual when the Crone parts the veil between the worlds, which we traditionally do before going into the labyrinth. As I was about to do it, I stepped in the Mayhole. In the darkness, which seemed so much darker than other years, I did not even see it. It is at least 6-8″ deep and lined with rocks. I stepped in and pitched forward in nearly a face plant.
The result was that I tore the end off of my toe (wearing sandals), scraped and bruised my shin so it is now pretty colors, and wrenched my hip and knee and apparently, every body part in between the two. I felt myself wanting to cave. My whole premise of late has been to take care of myself first and others after. Shifting out of the Mothering phase I was in since I was ten-years-old has been quite a challenge for me. Now, going into the Crone phase, I am long past overdue to let that part of myself slip into the shadows. It was like someone who keeps trying to leave military service, but gets pulled back in for one more tour of duty. Necessity always demanded.
I thought about going inside, piling onto the couch and crying. I knew Eric would finish up the ritual just fine on his own. I thought about just not going into the labyrinth and waiting in the circle for everyone to return. My shoe was filling up with blood and the bottom of my dress was wet either from blood or the water that was still in the Mayhole from the previous day's rain. Samhain only comes once a year and as much as anyone, I was ready for my time of rest. Ultimately, I wanted to embrace the dark of the year fully, so I completed the ritual. When everyone had left, Eric asked me what card I pulled and I realized I'd neglected to do so. I debated whether to get one or not, then picked up a flashlight and made my way into the labyrinth alone.
The labyrinth is a beautiful and sacred place, but it is also spooky at night, especially in front of a massive mirror with only a flashlight. I pulled my card and found it an interesting juxtapose with Eric's.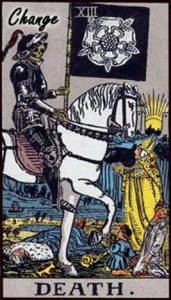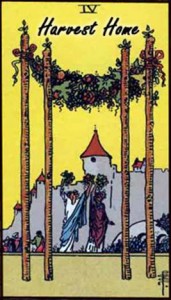 He pulled Death, which means tremendous change. I cringed when I saw it because, to be honest, this was a very tough year. I was called upon to dig deep and find strength I didn't know I had patience I did not ever think I could muster. I am tired. More change sounds exhausting to me.
I pulled the 4 of Wands, which means stability, a happy harvest, and the successful end to hard work. It was quite a relief. Apparently, the change will primarily involve Eric and I will somehow be protected from the impact, at least in a negative way.
I am eager to see how this all manifests in the dark of the year, which runs until March 21 when we plant again. Until then, there will be a great deal of careful consideration about what to manifest in the coming year and a lot of exploring of dark corners to learn more about myself.
I also plan to rest, restore, regroup, and rejuvenate. I need to revamp my way of being in the world. The greatest gift of the past year was finding out exactly who I am meant to be. That was always in such turmoil before between satisfying what others wanted me to be and trying to honor my own destiny and even to know what that might be. This year left no further mystery as to how I am to best manifest The Goddess in this life and how I should best invest my energy on a daily basis and ultimately. Until further notice, I am giving those objectives my best effort.
I learned a great deal and I am eager for the repose of the dark. Right now, the rain California so desperately needs is pouring down and with the time change, it is dark, dark, dark. I can feel Autumn all around and I have put a major project (Aster of Avalon) to bed after a year and a half of working on it. Two more projects are waiting to begin after a brief time out from writing. Stephen King might recommend writing every single day, but I have to step away from it now and then to recalibrate my control panel.
Last Thursday, a tickle in my throat turned into a full scale head cold. I am never, ever ill, so when it does happen every few years that something hits me, I take it as my cue to slow down and rest, giving my body a chance to heal. I managed to get through the weekend of working at the shop with the entire right side of my body feeling sore and broken from the fall and my cold holding court in my head. Today, I cleaned house from our event on Friday and did some busy work, but the rest of the week, with the exception of a trip to town on Wednesday to meet with the homeschool teacher, is dedicated to recovery.
I hope all of you are welcoming the dark with open arms, ready to embrace the wisdom that is there for you.