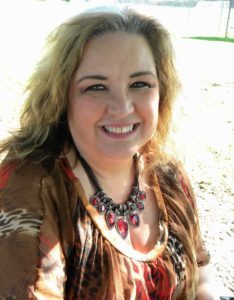 Katrina Rasbold has worked as a professional life coach and Tarot reader for more than thirty years. Her readings are insightful and personal. She takes on a select few clients each week as her caseload and workload allow.
If you would like a reading from Katrina, please email her to see if she is available for consultation. Once she accepts you as a client for that week and agrees to do your reading, you may order your reading from the link below by making payment via PayPal. You do not have to have or use a PayPal account to pay with a credit card. Once payment is made, Katrina will make every effort to email your reading within 48 hours.
[show_wp_shopping_cart]
Please note: Katrina does not under any circumstances do phone or Skype consults.
Face-to-Face Consultation
30 minute face-to-face consult – $65 at LightWeavers Academy in Citrus Heights.
Please book online at www.lightweaversacademy.com. Katrina is available for face-to-face Tarot consults on Sunday from 1-6pm only, provided she has schedule availability.
Video Consultation:
13 Card Online Video Consult – $65.00
Pay for your reading using the link below, then email Katrina and let her know what you would like for the reading to address. Katrina will not perform your reading until she receives an email from you indicating what area of your life or situation you would like the reading to cover.
[wp_cart_button name="Video Tarot Reading" price="65″]
When the time is right and Katrina feels she has a good intuitive connection, she will shuffle and choose 13 Tarot cards from the deck, lay them into a spread, and interpret them in relation to the question or subject you wish to explore. She photographs the reading and records her impressions, then sends you a private YouTube link to which only you have access unless you choose to share the link with friends. The link is not made public. The link remains active for up to a year after your reading so that you may reference it as you wish. Please read the conditions regarding Tarot readings so that you have a full understanding of what is included in this price. Katrina has successfully used this method of Tarot reading for many years with very satisfied clients. The spread she uses looks like what you see below (click to enlarge):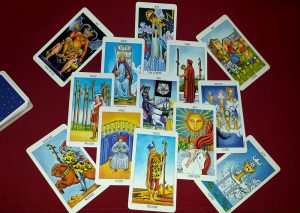 Terms and Conditions for Video Tarot Consults:
Payment for the consultation covers one (1) Tarot reading on one (1) subject. If other subjects come up in the course of the reading, Katrina will address them. If you wish to know about multiple subjects (work, love, housing, health, etc), you will need to purchase separate readings for each subject. Once you have listened to your reading, you may email to ask questions about the information covered in the reading. If you want additional information that you did not initially request, you will need to purchase another reading.
For example:  You contract with Katrina for a reading on your love life and ask 1) Is my boyfriend being faithful to me? 2) Will our relationship be long term?  3) Will he ever commit to me? and 4) Will his mother ever approve of me?  Katrina performs your reading and sends you the link. After you listen to the reading, you email her to ask, "But will we actually get married?"  "Will we have children together?" "Will our break up be amicable?" These are not questions you requested when you commissioned the consultation. You would need to order another reading to address those specific questions. 
For this reason, please carefully consider the questions you wish to ask. Katrina will do her best to address each specific question based on the information coming through at the time of the reading. You may also request a "General" reading that addresses whatever the cards choose to discuss.
A Tarot consultation addresses how conditions are and how they are are changing at the time of the reading. When a Tarot reading is performed, it addresses current conditions, what significant factors led up to the current conditions, and how the situation is likely to evolve based on the current conditions. A Tarot reading can show you unexpected or unknown factors and can show you unexpected outcomes. You can, however, make choices that change the outcome of the reading. You always have free will to shift what is coming.
For example: Your reading shows that you that are going to take a job that involves extensive travel and will bring you financial abundance. If you actively choose to refuse all job offers, that outcome will not likely manifest. If your reading shows that you are likely to become pregnant within the next year and you choose not to have sex, you have made a choice that changes the outcome. 
Again, the reading shows you where your life is headed at this time if no changes are made to affect the outcome.
Consultation requests are filled in the order they are received. When you email to request a consult, Katrina will let you know if she can accept you as a client that week, based on her availability. She gives each consultation extensive time and energy, so your patience is appreciated. If she agrees to the consult, you will usually have your reading within 24-48 hours.
Credit is not available. All consultations must be paid for in advance of the reading. Katrina does accept barter in some cases. Do not hesitate to ask, but understand that she may decline.
Payments are not refundable. Katrina will always give you the best she's got. She will provide active focus to your reading and will invest heavily in giving you the most concise information she can glean from the cards and psychically. Results are not guaranteed, especially since, as mentioned above, life choices can change predicted outcomes.
[wp_cart_button name="Video Tarot Reading" price="65″]
Online Payment for Consultations:  Please order your consultation using the "Add to Cart" above.
[show_wp_shopping_cart]
Questions?  Contact Katrina at: krasbold@earthlink.net

To read testimonials about Katrina's readings, click here.