I have written as an online journalist/blogger since 2000, back when webmasters used to download premade websites, plugging their html into a page to create a layered look. Here, let me find an example: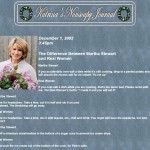 That is a thumbnail of one of those webpages on what used to be called my "Nonsoapy Journal." If you click the thumbnail, it takes you to the actual blog entry, which is dated twelve years ago today. It was called the "Nonsoapy Journal" because at one time, I owned and ran one of the three most visited websites on the internet that focused on ABC Daytime Drama. My site, "Eye on Soaps," was, in fact, the first website to provide commentary on ABC soap operas from several different writers. I am very proud of all we accomplished with that website.
As I read back over my old entries, I feel a sting and think, "Wow, I was so whiny." That is how I feel about my posts from this year, but then I think about how tough this year was and compare it to how things were ten or fifteen years ago. It was always hard back then. The kids were little and that is stress unto itself. I have raised little children and I have raised teens and I am now a mom to young adults (my oldest is 36) and teens (my youngest is 15) and I can tell you, the little ones are tough. Of course, there is a huge difference in what little one need and older ones need, so there are challenges in either case, but wow, the little ones just drain all the energy out. Eric and I were always struggling to make ends meet and it seemed like he got laid off every few months from one job or another. He got out of the Air Force and went into the telecom field moments before the bottom dropped out of the dotcom industry and companies folded left and right. We have been protected for a long time, that is for sure. This year was more about the pain of personal issues when life continually demands that we step up when there is just no more energy left.
I want to say I made it through because things feel better now. The bombs have stopped dropping and I feel confident enough to stick my head out of the bunker. Good things have started to happen and for a very long time, they were quite rare. There is one again peace and occasionally, some relaxation.
A couple of months ago, I had to admit that I was not making enough money in book royalties to keep up my end of the household finances, so I began to quietly look for a part time job. The challenge is that although I am smart and have talent in some areas, I have not had employment to speak of since I left the work force in April of 1998. At that time, I worked for the Air Force in its Civil Service field and made a good salary. I quit to become a full time mom. They are now grown and independent, but there is not much in the way of opportunities for a 53-year-old grandma with no recent work experience. I applied all over the place and have not received even one call back. I prayed and worked Energy Magic and visualized and waited.
As it tends to happen, opportunity came out of the blue and now Eric and I are investing in a computer repair and sales business. I started training on Saturday and found that I really love it. There is still a lot to learn, but I feel confident about it, despite dire warnings from friends who feel I am in over my head. It all just seemed to work out and the current owner who is selling felt comfortable with my existing level of skill. It is something my kids can help with as well, which will put a little money into their pockets also. December is admin month getting all of the paperwork done, then we will have a grand opening in January in Sacramento.
The Weeping Angel Tree Toppers go on sale today and soon I will post photos of each of the girls. There was a delay when I found that two of the spray rock canisters did not function, so some of the girls have to wait to debut. Like always, this group has very individual personalities and attitudes.
The third Avalon book is going well, but writing time has been a challenge with all that is going on, so I hope I do not have to push the release out a month. I love this character and her story is very special, so I want to give her all the time she needs to spread her wings.
The newest release, Weather Witchery, hit the top 1000 in Kindle's free books and is #1 in Gaia Earth Energies for all of Kindle. You can get it free if you download it before midnight tonight.
Holiday shopping has not even begun. I got one gift for one friend and not even a single other thing. It will come when it comes.
Nathan, my youngest, was accepted into Visions in Education, which is an independent study program we have enjoyed in the past. I had great hopes when we enrolled him in El Dorado County Virtual Academy, which is a hybrid school of online and classroom teaching. It did not work for us (and did not work in a very big way), so I will be grateful to move into another program. I will also be grateful to be finished with public schools after more than three decades of dealing with them. I have no regrets in closing that chapter. Dylan, my 5th child, graduates in December, so when the schools close for Winter Break, my time with public schools will be over. Three weeks and counting.
Thanksgiving was lovely. David (my 3rd child), his son, Davin (11), and my daughter, Delena (22, my 4th child) joined us for the day. We went to Leoni Meadows' community day and had a wonderful time with a train ride, go karts, zipline, and their wonderful apple fritters. We all then gathered around the family table for a traditional ham and turkey meal.
I have come out of the dark sufficiently that I no longer define a "good" day as "nothing horrible happened." Now, I smile quite a bit and actually feel peaceful most of the time. Every now and then, a trigger hits and I go into duck and cover mode, but mostly, I am feeling more confident and strong. It was a tough year and I am grateful for what it brought to me, but ready to let it go and move into the future.