It is not yet the end of February and already, this has been a rockin' year. Last year was a brutal battle fighting (most with myself, as these things are wont to do) for my own sovereignty and creating space on which I could stand. I have been falling down a great deal over the past several years (likely all of my adult years) and I am very adept at creating excuses reasons for my failings. We are all flawed and I get that, but these are lackings based in cowardice and laziness. I can only see that in retrospect and this is not coming from a place of self-loathing but more from the relief a person feels when they escape a particularly oppressive situation.
I had many signs along the way and believe me, I had more "buts" than a poker party ashtray. There was always a reason why I could not step up.
Late last year, rather I just did it and the Reader's Digest version of that story is that it is working and although there are times I hear myself saying, "Wait…you're doing that thing again," for the most part, the progression has been forward and swift, for which I am grateful.
Google Chrome shows you a grid of your most visited websites so you can easily click on them. Mine pretty much tells the story of how my time is spent these days: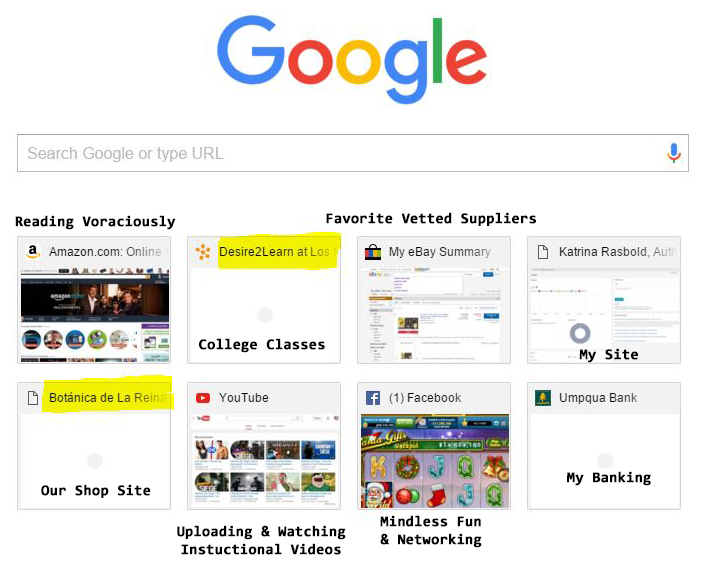 Other than cooking for the family and going back and forth to work on the weekend, and making inventory for the store throughout the week, this is what I do. I have felt for some time that my energies are going in a lot of different directions: brainstorming and creating new products for the store, web design, Tarot readings (including the weekly general reading on Mondays), teaching, co-hosting our circle with Eric, and writing, plus being involved in the management of PanGaia Festival, trying to envision the next nonfiction book, being Mom, and working with Eric to take care of our home.
Eric retired in March 2015, so he is here all the time to help with the overall home management and parenting, plus working on product development for the shop. He also makes wonderful instructional videos in English and in Spanish.  I am blessed to have help with what I do every single day.
This past weekend, I went to an event called Panthacon, which is an annual Pagan event; four days of workshops, rituals, gatherings, fellowship, and spiritual exploration of all kinds. Thousands of people attend this event. I was honored with an invitation to present on Friday and Monday. In fact, I had the first presentation slot of the con and the last, which was a lovely bookending. I was available to read Tarot cards on Saturday and Sunday outside the vendor hall and I had a book signing on Friday afternoon. I presented on my books Weather Witchery and Goddess in the Kitchen: The Making and Magic of Food. I had an excellent turnout for both. The attendees were interactive, interesting, and plugged in. It's always rewarding when the people appreciate and seem to get what you're saying. Both went exceptionally well.
So throughout the weekend, I had plenty of opportunity to take the pulse of the Pagan community and to see what interests people and what doesn't. More specifically, I wanted to see where I should put my energy and where I should pull it back. I am spreading too thin to fully invest in anything and I wanted to know where my greatest success would lie. I already gave up writing my Patheos Pagan column, but I need to tighten up the reins even more.
Before the weekend began, I asked that I be shown where my greatest success lies and where my energy could best serve the Goddess. Typically, those are one and the same.
The results were overwhelming.
Tarot: I got zero reinforcement for Tarot readings, so I will dial that back to my current clients and not aggressively market that side of what I do. I will keep the option available on the website, but not pursue that avenue to any tremendous degree. Current clients: I love you! I am still here for you always!
Non-Fiction Writing: Got some redirects on that. I might work on one book for the year if I find inspiration, but I will wait for it to find me and not go looking for it myself. This one is a no-go unless something in particular strikes me.
Teaching/Presenting: I love public speaking and teaching and interacting on that level. Pantheacon reminded me all the more of the reasons why. I hope to find a venue where I can teach in Sacramento and El Dorado Counties. That one is a go.
Botánica de La Reina: *sigh* I so love my shop and I missed it this weekend, even though I had a great time. LOTS of positive feedback about the shop and people interested in finding it, so that is a definite win. The customer base is growing steadily and I have a ton of fun, interesting people coming through the door every weekend. There was some interesting input about my pricing, which I will explore with deeper consideration.
One interesting development that I did not foresee was that at a couple of points, Eric got uncomfortable with me telling people, "I own a botánica in Roseville…" when he was there with me. He wanted me to say, "WE own a botánica in Roseville…" I struggled with this because my impression was that I had built up the botánica and it was my heart and soul. He mostly runs the computer side and makes a few things like the cedar horns and the coffin nail crosses. I felt our egos each getting "all up ons" and yes, we had words about it. His position was that he found the business we purchased that became the botánica. He makes items for it. He is there every weekend just like I am. He is as qualified to answer any of the questions as I am. He is on the bank account. He is on the business license. All good points, but I could feel myself grasping for something in this world to be mine that I created and for which I could claim success. My interim argument was "I do own a botánica" and "You also own a botánica" and that it is not inappropriate for me to claim that I do, even if he is there. He disagreed and I clung even harder with mine, mine, mine.
After I had too many hours some time to step back and think about it, I remembered my goal for the weekend, which was to get some strong direction for where to put my energy and here was Eric stepping up and saying that he wanted to be fully involved and engaged as an equal partner. With that in mind, I decided that I would not personally work on developing additional products for the shop for the time being. I will continue making what I do with Eric stepping in to work on the incenses, the powders, the candles, or the other items as he wishes. That will potentially free up more of my time while still letting me pursue the parts of it I love.
So Botánica is a big yes, big win, but with me investing less time.
That takes me to the major revelation that wow, just could not be denied.
Those Avalon Girls: I got a reading from a wonderful card reader on Saturday night using a deck she designed herself, so there was no way I would know what cards were in the deck since it was a nontraditional deck. I chose three for her to read (from a face down fan):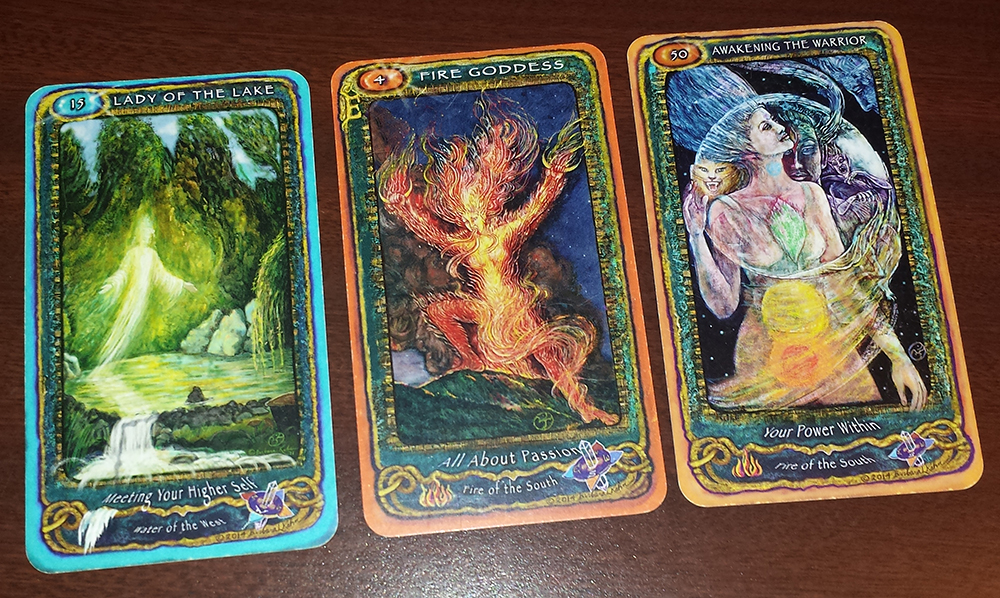 The reading is self-explanatory, but I was especially moved by the first card I drew considering that the best selling books in my thirty-two book collection right now are the Seven Sisters of Avalon books which take place forty years after King Arthur's death.
Later, Eric and I were taking outside stairs from one wing of the event center and I found these: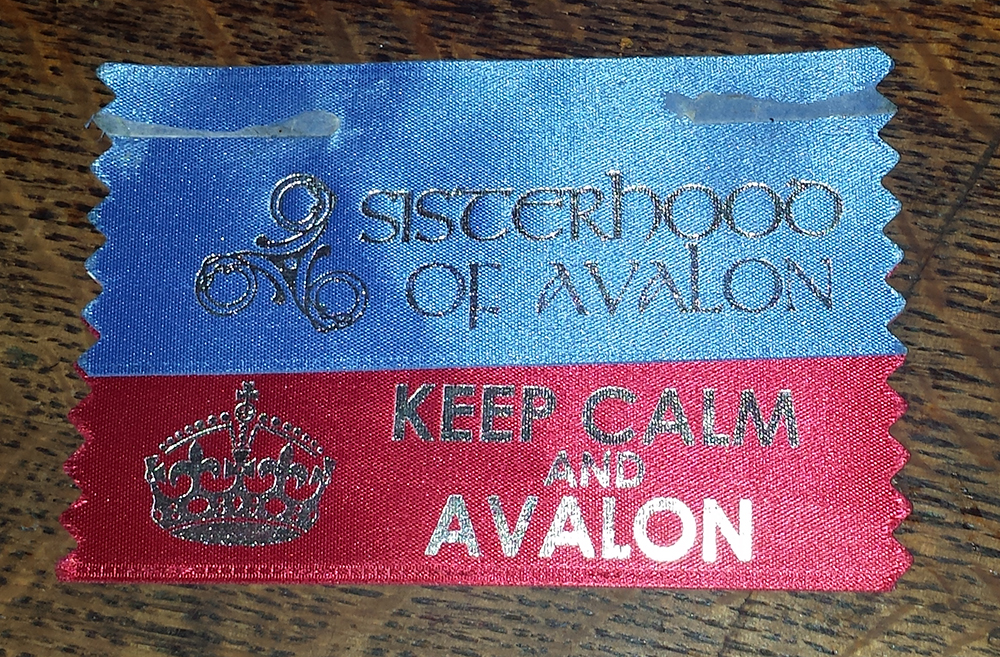 At this con, people attach ribbons to the bottom of their con badges until they have a huge bandoleer of ribbons trailing down their front. These were ribbons someone lost off of their string and yep, they both happened to mention Avalon.
When we left the event to go home, we stopped by Denny's to get lunch and the woman at the table beside us was reading Mists of Avalon, by Marion Zimmer Bradley.
When we were leaving town, we passed some sort of establishment, don't know what, but it had AVALON on its sign in big letters, just in case I missed the message the first three times, which is a reasonable concern.
So most of my energy will go towards writing. I am about a third of the way through the Southern Conjure Woman first book. I am not sold on the title or on it being a series, but it is a lot of fun to write. As soon as it is published, I will get back to writing about my Avalon girls again.
And that, my friends, is how magic works.
My theme for this week has been:

At least none that do not point to Avalon.
Plus I am glad to be home despite a wonderful time.
Be well, my friends.