Since a number of the visitors to my site read my blog on a regular basis, it helps to know some of the people to whom I am referring.  This is your road map to all things Katrina: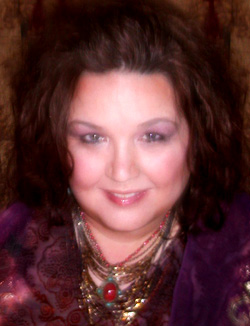 Katrina/Kathy = Me
Names I've Used (legally, for the most part):
First names:  Katrina, Kathy (Birth family calls me Kathy)
Last names:  Rasbold (now), Humphrey (last marriage) and Chapman (Maiden name)
I attended Ohio County High School, class of 1979.  I married an Air Force guy and traveled the world before settling down (sort of) in 2000, by then with a different husband (the one you see below). I am a life coach, web site designer, and a published author on Amazon.com.  I have a PhD in Religion with a minor in Psychology
+~+~+~+~+~+~+~+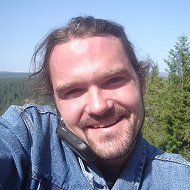 Eric = Husband, together since 1996
This is my husband, Eric.  He likes giraffes.  We have been married since November 1997.  We got married on his birthday.  He never forgets the date of our anniversary.
He is an avid (avid ) gold miner, a retired electrical engineer and full time Geology student.
He was in the Air Force for seven years, stationed in Mississippi, Korea and California.
Here, he is taking a photo of himself while phoning me.  We talk a lot.
He is a Commissioner for Veterans Affairs for El Dorado County in California.
+~+~+~+~+~+~+~+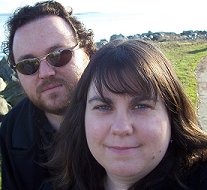 Joe = #1 Son, born in 1978
This is my son, Joe, and his wife, Sandra.  They live in Victoria, BC, which is an island a good distance up and thataway from Seattle.  Sandra is Canadian and Joe is a displaced American.  They are one of the internet courtships that actually worked.  I miss them very much.  I also miss the fish & chips served in Victoria.  Hmmm.  I need to visit.  Joe is a writer and artist and Sandra works for the CANADIAN GOVERNMENT – so watch yourself.  They have been together as long as Eric and I have been together.  I don't see them nearly enough.  OK, I gotta stop this or I'm going to get all sad and stuff.
+~+~+~+~+~+~+~+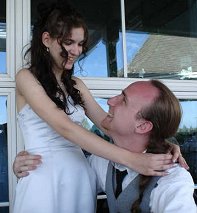 David = #2 Son, born in 1980
This is my son, David, with Amber, his fiancee.  David works for the State of California and Amber is a professional chef and all around artsy person.
Dave is a cyber genius and fixes my computer for me without complaining.
I love this photo of Amber because she looks happy.  In most photos, she looks like she's going to stab someone.  Seriously.
David and Amber live in Sacramento and have provided me with a fabulous grandson named Davin born in 2003.
+~+~+~+~+~+~+~+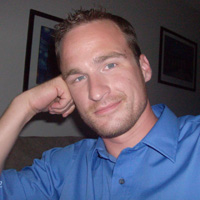 Josh – #3 Son, born in 1982
This is my #3 son, Josh.  He has an amazing son named Aiden, born in 2004.  Josh lives in North Highlands, California.  Look out, ladies!  He's single and ready to mingle with the charm to disarm!
+~+~+~+~+~+~+~+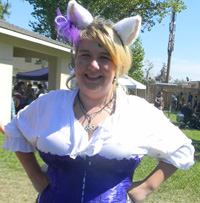 Next comes my beautiful only daughter, Delena, born in 1992
Delena is a proud college student in her second year as an Art major at American River College.  Her hair changes color a lot.  She's a very, very prolific writer and a sweet, funny, smart young woman.  By profession, she is a computer tutor.
She graduated from Union Mine High School in May of 2010.  She is a voracious reader.
She lives in Sacramento with David and Amber.
+~+~+~+~+~+~+~+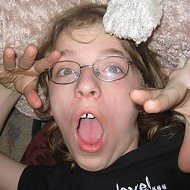 Dylan – 4th Son, 5th Child, born in 1997
Dylan is a kid who is just too good for this earth.  He's quiet and reserved about his feelings, which is interesting considering (fire up your astrology books, folks) he is a Triple Cancer (meaning his moon, sun and rising sign are all in Cancer).  He is sweet and generous minded. He also has zero interest in cutting his hair. He loves video games and a board/card game called "Munchkin" and has his own fanbase on YouTube where he does online, streaming video game commentary as KiwiSuperNinja.  He has a loyal band of friends is my second aspiring artist in the family.
+~+~+~+~+~+~+~+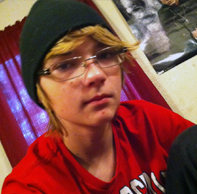 Lastly, this is my 5th Son, 6th Child, Nathan, born in 1999
This is my youngest son, Nathan, born in . Nathan is extremely smart, funny, vibrant and full of life.  He questions everything and his brain never stops ticking. He loves music and is an accomplished guitarist.  He also enjoys video games and is especially passionate about magic and illusion.  He's a hacker at heart and is great with computers.
+~+~+~+~+~+~+~+
Other things to know:
" Town" As in "I'm going to town"= Placerville, CA (40 min away)
Where Else I've Lived:
Pleasant Ridge/Buford, Kentucky
Tamuning, Guam
Yigo, Guam
Andersen AFB, Guam
Holloman AFB, New Mexico
Ofton, Suffolk Couty, England
RAF Bentwaters, England
Apple Valley, California
George AFB, California
Victorville, California
Quartz Hill, California
Mountain Home AFB, Idaho
Grand View, Idaho
North Highlands, California
Antelope, California
Sacramento, California
Grizzly Flats, California