Some Frequently Asked Questions About KDP and Createspace Publishing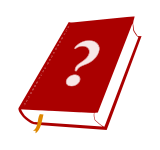 How long should my book be?
Of course, that depends on how long it takes you to tell the story or deliver your message. The standard for ebooks tends to be a minimum of 10,000 words, which would be the lower end ebook quick reads. For print books, they should ideally be 300 pages or more.
What trim size should I use for my print book?
Non-fiction books work well at 8×10" and fiction does great at 6×9"
Will the inside of my book be in color?
In the case of an ebook, whether your images are viewed in color will have to do with the type of Kindle or other device the reader is using. A Kindle Keyboard, for instance, displays only in black and white while a Kindle Fire will show color. Kindle for PC will show graphics in color because the reader is looking at their PC or laptop monitor.
For a print book, the color of your images will depend on your interior color choice. If you choose to have a color interior, the pictures will be in color. If you choose a black and white interior, they will be black and white. There is no mix that allows for "black and white except for graphics." It's all or nothing.
How can I tell how many books I have sold?
In both KDP and Createspace, there is a dashboard (in KDP, it is called a "bookshelf") that show your sales and can generate reports for a particular time period. Createspace totals your royalties on the front page of your Member Dashboard. In KDP, click on "Reports" on your Bookshelf page and then choose from the four choices of the type of report you wish to generate.
In KDP, be sure to check your foreign sales as well. I have known people who do not realize they are there:

This drop-down menu is available over your list of books and to the left of the "Search" box on the "Reports" page. When you click on the down arrow, a list of foreign Amazon markets will display. Choose the one you want to check.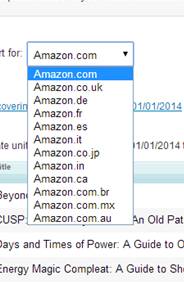 How do my print books and ebooks hook up on Amazon?
Usually, this propagates automatically within a week or so. If it does not, contact Amazon customer support and they will make the connection for you. You can find what books are associated with your name as author by searching for your own name on Amazon.com. I cannot stress enough how helpful the customer service departments for both KDP and Createspace are in problem solving. Their response is always very quick and efficient.
Why does my print book cost less on Amazon than on Createspace?
Amazon sets its own price for some print books, but you will always receive the royalty you set in your Createspace preferences for the book, regardless of what Amazon charges.
Why do I get higher royalties from Createspace sales than I do from the same sale on Amazon.com?
Because you do. You may refer buyers to your Createspace book page to purchase a print book rather than linking to Amazon.com if you choose to do so in order to collect the higher royalties. To get the Createspace store page for your book, type in www.createspace.com and add /yourbookIDnumber after the .com. Get your book ID number from your Createspace Member Dashboard AFTER YOUR BOOK HAS BEEN ACCEPTED BY CREATESPACE. It will be to the far right of the title on the Member Dashboard.
Will I be paid the full amount of my royalty?
Yes, with the exception of a tiny amount (less than a dollar in most cases) that is collected for delivery charges to cover the bandwidth of your book transfer to the buyer.
How will I be paid?
You may choose to be paid by check or by direct deposit. Direct deposit is much faster.
When will I be paid?
Be sure and check current policies for payment on the individual sites. Usually, KDP pays sixty days the end of the month in which your royalties were accumulated. Createspace usually pays thirty days after the end of the month in which your royalties accumulated. Payment can take several days to process.
Payment for foreign sales tends to trickle in a bit at a time.
What are the "returns" I see on my reports?
Amazon buyer have seven days in which they may return their ebook purchase if they are not satisfied. One of the most common reasons for returns is for graphs and images that do not completely resolve for Kindle readers, so be sure and proof your book well! Sloppy formatting will guarantee returns. Authors are NOT compensated for returned ebooks. EVERYONE has books returned, so try not to take it personally.
Why are there reviews on Amazon products?
Good reviews are extremely important in marketing your book. Buyers often refer to the review section for guidance before buying a book. Be sure to have your beta readers leave good reviews for you books to get you off to a good start!
Where can I get help if I get stuck?
You will find a tremendous amount of useful information in the KDP and Createspace forums, as well as their tutorials. Youtube.com also has instructional videos on how to publish to these venues.
Policy and procedure for Createspace and Kindle Direct Publishing changes often, so if you run into contradictions between what I say and current information provided with either of these venues, go with what they tell you rather than what I have said here. Every effort was made to provide accurate procedural instruction in this book.
I can't believe it! I got a terrible review!  What do I do?
You know, you just get over it. If there is helpful information in the review, use it and learn from it. I recently got a terrible review that let me know that the table of contents was broken in one of my non-fiction books. Had I not gotten that review, I would have no way of knowing. I offered to replace the book for the reader and she was then happy.
There are some people in the world who live to complain and you may well get an undeserved bad review. If this happens to you, do not respond to the review or engage the reviewer at all. Click on the button that allows you to identify the review as "not helpful."
No matter how well you write or how hard you work, you cannot ever please everyone and some of those people you cannot please shop at Amazon. I have even had people complain about a book they received on a free promotion!  The way to counter bad reviews is to get more good reviews!
That's it! You are all set to start publishing your book in ebook or print format. Once your book is processed and availing on Amazon.com, your journey has just started. Your job at that time is to market the books you have and produce new ones as you can. If you are truly a writer at heart, you are well on your way to fulfilling your destiny.