SEVEN SISTERS OF AVALON
Click the title to purchase
In Book One of the "Seven Sisters of Avalon" series, the reader is introduced to two royal families, one on Avalon and one on the mainland, who work to keep safe the practitioners of the Old Ways during a time of persecution and strife in Britain.  Rather than sink further into the mists, the Wise Ones of Avalon make one last attempt to return magic to the land and keep the worship of the Goddess alive. This series is based on Arthurian legend and classic fairy tales.
"The Daughters of Avalon is the first book of the Seven Sisters of Avalon series. It is set in Britain during the cultural and economic deterioration that occurred following the decline of the Roman Empire and following the death of King Arthur. At its core it is the story of the Merlin of Britain (reborn) and Lillian, the current Lady of the Lake. It is the story of their love that has triumphed through many lifetimes. The Druids and Priestesses of Avalon, and the Goddess herself have tasked them with nothing less than the continuing safety of those who practice the Old Ways in the aggressive and cruel forced Christianization of their homeland. The Daughters of Avalon is magnificent reading, and I highly recommend it. Katrina Rasbold is a master storyteller and a gifted writer. I have no doubt that this series will find its place on the shelf between greats authors like Marion Zimmer Bradley and T. H. White."  …Old Wolf
_____________________
At last the second book in the popular Seven Sisters of Avalon series has been released! Readers loved book one of the series which told the epic tale of two couples: Bran and Lillian and Phillip and Ophelia, two magical families joined together in a campaign to preserve the safety and freedoms of the Goddess worshiping people of Britain as it slipped into the early Dark Ages. Bran and Lillian's seven daughters are now grown and begin their quests into the seven kingdoms of Britain to return magic to the land and liaison with the country's leaders to protect the people of the Goddess. In this volume, the fiery haired Rose goes into North Wales to meet with the reclusive King Jacob Rowan who no one has seen in many years. What she finds there is as much a magical journey for herself as it is for her quest and a whole new world opens up for her. Filled with adventure, passion, humor, and magic, this book will pull at your heart strings and take your breath away with its exciting and sexy story of a beautiful priestess who meets a king well in touch with his animal side. Although Rose of Avalon stands on its own as a beautiful, fast-paced story, but the reader's enjoyment of the series will likely be enhanced by reading The Daughters of Avalon first.
"Ms. Rasbold does it again as she sweeps us up in a tale of magic, love and strength. Her depictions of the characters is brilliant and you feel like you know them all on a personal level. I can't wait to see what story of Avalon and the holy isles daughters she conjures up next. Deserves more stars than I can give."  …RReina Bella
_____________________
Book Three of the "Seven Sisters of Avalon" series takes the reader on an adventure to Hadrian's Wall where Princess Aster of Avalon joins the army King Urien has assembled to fight back "The Twister," Aethelfirth, the savage Saxon King who is rampaging his way through Britain leaving a trail of smoking villages and dead bodies in his wake. As she immerses herself in battle, most of what Aster learned on Avalon comes into question, including her loyalties as her quest takes her off of the battlefield and deep into the heart of Saxon country. In a way very different from her six sisters, Aster changes the face of magic and even politics in ancient Britain. She finds love, loss, tragedy, and conquest. Over time, she begins to wonder if she will ever make it back to her beloved Avalon, the land she did not even know she would miss until it was far, far away.
_____________________
Book Four of the "Seven Sisters of Avalon" series follows Iris as she journeys to Cornwall to rule as Queen to the handsome and noble King Marcus. In doing so, she incurs the wrath of a petulent and rebellious stepdaughter and courts the ire of a fierce archbishop. Through tragedy and triumph, she finds a stalwart court of allies as well as some familiar faces in this new and strange land.
_____________________
Lily of Avalon – COMING SUMMER 2018
Book Five of the "Seven Sisters of Avalon" series releases this summer and follows Lily's adventures down the rabbit hole as she follows her destiny as the seer for the volatile and quite mad King Cearl of Powys.
_____________________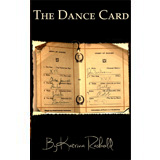 The Dance Card is a story told in conversation between a divorced woman and her therapist that quickly evolves into a fascinating journey into the theories of reincarnation, introducing the idea of "looping" through multiple "life treks." Kate Kingston carries with her certain memories that lead her to connect with a particular psychiatrist. As their relationship progresses, they explore the implications of memories from other concurrent life treks and the idea of a "dance card" of people we are intended to encounter during each of our life journeys. Why do we feel deja vu or an instant attraction or resistance to other people we encounter? What if we really do have a soul group that comes into each of our life journeys to help us have certain experiences and learn certain lessons? The Dance Card will make you smile, make you feel, and most of all, will make you think about the significant relationships you have had in your life and their purpose in your divine mission on earth.
"I am still pondering this book. I could not put it down, carrying my e-reader app with me so I could read in the little spaces of my day – something I generally do not do. The author expressed an idea about what happens after we die that is so compelling, it has stayed with me after finishing the book. I'm still not sure how I feel about it or whether or not I can embrace it as "truth" – at least for myself – but – it haunts me. I love anything that haunts me like that…that stays in my mind and infiltrates my senses and somehow shifts my view of life and the world around me. This little book did just that. I will be reading it over and over – I am certain of that."  …Enchantress
_____________________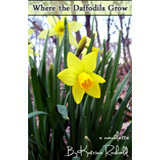 Where the Daffodils Grow (A Novelette)
Frannie is a fifty-four-year-old abused wife who learns that she has won sixty-four million dollars in the state lottery from the tickets she sneaks to purchase every week. Her life turns around in a day as she finds empowerment within herself and takes extreme action to protect herself and her winnings from the man who has subdued her for decades. A bizarre twist of fate takes her life in directions she never imagined and provides clarity for her in unusual ways.This novelette will make your heart ache as our heroine considers every aspect of her unique situation and overcomes the submissiveness that has be literally beaten into her to take control of her life and come into her own.
"This writer has a way of drawing you into her words. Couldn't stop reading. Had to see how it would end."  …Country Girl