You know, where Harry, Kate, William, and the fam live…
Later that day, we were bound for Kensington. We were still finding our way through the London Underground, but Eric was a pro by the time we left. It still looked like a Gordian knot of lines to me so I just let him decide where to run to next and run we did. Everyone runs for the train, even if another is coming in five minutes. There are a good 20-50 stairs to get to any tube or train line and it's up and down and up and down those stairs constantly, then running like mad to get to the platform. When you are going up or down the stairs, a stampede of people is passing you by.
We stopped at The Goat for a nice lunch and this was after deciding that we didn't want to eat at the one Mexican restaurant we found before that.
The Goat was great and had wonderful meat pies: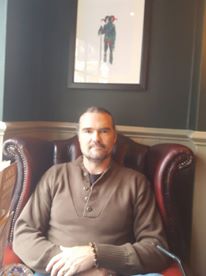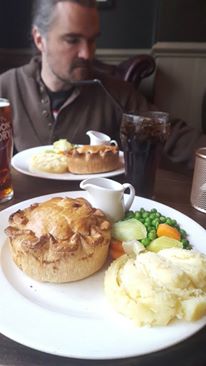 We got to Kensington just in time. Kensington borders on this beautiful area called Hyde Park. As we came to a gate, Eric noted it was private and speculated it was "their" driveway.
Sure enough, within minutes, a swarm of police descended, stopped traffic, and this happened:
I about went into a fangirl tizzy.
Then we explored the grounds for a very long time and saw amazing things. Afterward, we met up with a long time online friend, JoJo, and her husband Justin, and had a wonderful pub time at St Thomas'. It was the perfect end to the day.