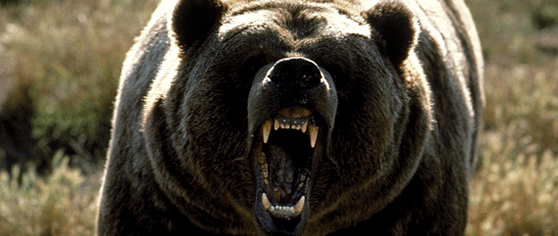 I think I have always known, at least since we moved here ten years or so ago, that I would die in my back yard.  I think Eric knows too because for the first year or so we lived here, if he called me during the day, which he usually does 6-10 times a day, he would freak out if I did not pick up the phone.  Once, when Eric worked with a company called Cable Express splicing fiber optic cable, my son Joe, who lived locally for a short time, called me up and said, "Hey, I got paid,do you want to run down to Pizza Factory and have lunch?"  I had just talked to Eric a few minutes before and he'd told me he would be "in the field" and if I called, I would not likely be able to get a hold of him.  Because of this, I did not bother to phone Eric (in the field) and let him know that I was leaving.  Joe and I went to lunch and had a splendid time and since we were having such a splendid time, we stayed for a couple of hours.  When I got back home again, very, very angry Eric was standing on the balcony (which doubles as his man cave) and THAT was not a happy evening at Casa Rasbold.  Apparently, he had phoned not long after I left and when I did not answer, figured I was prone and twitching on the back path, up here in the mountains all alone.  With that image in his mind, he dropped all responsible working duties and power drove all the way from Sacramento (90 minutes) only to find me gone and pulling into the driveway a few minutes later glutted out on pizza and Diet Coke. I believe I have finally convinced him that I am not a ticking time bomb ready to stroke out at the drop of a hat, but for a while, it was touch and go with the terror of having an overweight wife of advanced age.
In the middle of the night, however, I look at my sacred back yard space and think, yep, this is where it is going to go down and it will be because of my stupid dogs.  At some point in the past couple of years, my dogs had a meeting and decided that they could not hold their water through the night and after getting that memo, my family got together exclusive of me and decided that none of them would ever hear the dogs moaning and freaking out in the night and that it was solely my responsibility to be doorman for the damned dogs.  Tough love doesn't work on these dogs either.  I tried the whole, "NO!  Go back to SLEEP!" approach and they countered with, "Oh yeah? Check THIS out!" and left me the Steaming Poop Mountain and Piss Lake of Improbable Size for me to find the next morning, looking at me like, "SEE WHAT YOU MADE ME DO??  THIS IS WHY WE CAN'T HAVE NICE THINGS!"
I have four dogs and there is a pee routine.  Elvis, the shih tzu, cannot go out with any of the other three dogs.  If he goes out with Jo-Bu, they will get into a pissing contest, regardless of the time of day, of epic proportions and will literally continue after they are both pissing nothing but air and pee vapor.  It will take approximately seventeen times longer than if he just goes out to pee  on his own.  If he goes out with either of the two girls, Baby and Muggles (don't ask), he will take forever because he has to follow them around and smell butts for longer than necessary before he ever even gets around to doing his business.  This is, of course, on top of the time it takes for him to not only go his full bathroom round, but to interview a few hundred places to deposit his poop biscuit before actually getting around to it.  The girls cannot go out together because if they do, they will instantly escape the fence.  They will not leave if they go out separately, but if they go out together, they are gone.  They will then run all over the mountain top like it is their job or something and come in a couple of hours later when I am finally getting back to sleep. They are then those dogs who bark and bark and bark and bark to be let in.  There are probably seven or eight secret passageways in the fence that only they know and if they are together they will use one.  These dogs are so determined that when I tried to be a wise ass and install an invisible (shocking) fence on the outside of the actual fence, they would endure the shock that the color gave, yelping the whole time and still keep pushing to get out of the fence.  They would rather take the shock and get out than just stay in the damned fence.
All this means that the dog process has to happen in three phases:  Elvis, Jo-Bu and Muggles, then Baby.  Baby lost some weird dog version of Ro Sham Bo and always has to let Muggles go first.  Go figure.
Oh and Elvis has to be escorted outside by a human because he is small enough to get through the fence and devious enough to do so in the middle of the night.  This means that I have to go out into the night air, which is plenty to get me good and awake, and stand around waiting for Elvis to figure out where he is going to poop and where he is going to pee, which is never anywhere near the same place,  and to think really hard about where he left the sock he brought out the last time he peed and to wonder what that lizard is doing over there and oooh!  Bat or bird??  Sometime between 2am and 4am, I will usually be wandering around my back yard, hissing at Elvis to hurry the hell up.
So that is where I will die.  Since my family is unable to wake up when dogs are flipping out in four-part harmony, I am sure they would not hear my pitiful cries for help.  Someday, I will go out there and a hungry bear will be stunned that anyone is awake and will launch, picking up Elvis like so much fuzzy popcorn and landing me like some grizzly bear version of The Walking Dead.  Someday, I will be taking this asshole dog out to pee in the crazy blizzards we have and I will fall down and break an old woman hip and freeze to death in the elements.  Someday, like tonight just now when I went out, I will hear people talking in the woods and they will be in the process of leaving a body for the wild animals to consume and distribute and they will say, "What's that?  Someone is in that back yard!" and there will then be two bodies for disposal.  Someday, I will be waiting for Elvis to finish his OCD routine of checking every variable in the back yard before he takes a dump and it will be that one straw that broke the camel's back in terms of not getting enough sleep to survive and I will drop dead of exhaustion because my damned dogs can't hold their pee until morning.
I am not even a dog person.  I am a cat person and I can't even have cats in my house because my dogs terrorize them.  These dogs had better start learning to fold laundry or spit gold pretty soon, I'm just sayin'.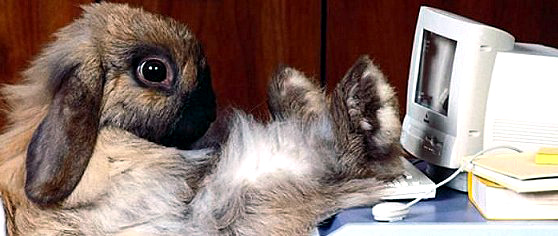 Yes, I have Fall-en and I won't get up, meaning I have gotten my "Fall" on, meaning that I have put the hot, overworked days of summer behind me and slipped into an embrace of Nature that smells like dried leaves and wood smoke and mulled cider that I don't drink.  I was a lovely year and I dare say, it was one of the best years of my life.  I had a lot of fun and got to spend time with some wonderful people.  There were huge challenges that sometimes, I did not think I could meet, but hey, the Universe and Great Goddess had more faith in me than I had in myself and I made it through.  Now, I look forward to a Dark of the Year where I am cocooning in my house and writing my books and being the reclusive writer that I am in my deepest heart of hearts and most fondest fantasies.
I was never good at socializing and I love my friends, but I have to have balance, so I pop out around Spring Equinox or when the thaw starts up here, whichever is most convenient, and begin my active time of the year.  Sometime in October (note:  last week), I finish up my work "out there" and close up shop for the year.  During that time, I leave my house very little and focus on home and hearth and other things that please me.  It is a blessed life and one I do not take lightly nor for granted.  I am excited for it and grateful for it every moment.  In order to fully appreciate the people I love, I have to back off for a while and hide inside.
As long as our power stays on, I am happy as a clam.  I get a little irritable when the snow gets super deep, which up here is 6-7 feet, because it becomes difficult to get the mail or feed the chickens or get wood and do other normal, daily life things.  Our last two winters were fairly mild and I could not speculate what this year will bring.
I have deeply enjoyed my foray into fiction writing and the current book, the first one, is plumping up nicely. I expect to release it and a kind of CUSP Lite book in November.  The CUSP Lite book will be a very condensed overview since we are nearing Winter Solstice when the magical year begins.  For those who wish to explore the CUSP concepts more deeply, they can go into the full book.  Sounds like fun to me!
No festivals until June (and that one is a maybe), no outside ventures, very few trips into darkest Sacramento and then only for absolute emergencies.  Trips to town once a week for supplies and an emphasis on introspection and self-change from the inside-out.
I spend a lot of time listening to the quiet these days.  Where I live, it is quiet enough that sometimes, all you hear is the hum of the refrigerator and the soft shuffling of the dogs as they turn over in their sleep.  My keyboard keys clicking are usually the loudest thing in my day until 4pm when the boys get home or 6pm, when Eric rolls in and the whole house lights up.  Last week, I vowed that every weekday, I would do something major to de-trash our house and upgrade our standard of living in some fashion. I did that successfully every single day.  I am evidently making up for that great effort by doing nothing meaningful at all day.  It is almost 4pm and I have no idea what we will have for supper. I know it will involved some kind of lean protein and vegetables because that is all I eat after lunch, but I don't know what it will be.  Stir-fry?  Chef's salad?  Who knows?  Something blah blah blah vegetables something blah blah blah lean protein.
[All too telling:  I was listening to "Peace in the Valley" on YouTube to commemorate my new tranquility and oops!  "Your Wildest Dreams" by The Moody Blues was linked on the sidebar and I had to click over... Peace is lovely, but my wildest dreams go even further!]
In short, if you need me, shoot me a Facebook message or email.  Don't be afraid to invite me to do things because hey, it might be a day when I am feeling adventurous, but for the post part, I am packed away for the Winter along with the tank tops and pool toys.
I'm excited to put the harvest to rest.  It was abundant and bountiful and I could not be happier.  So much so that taking even more seems greedy, but for us there are still 2-3 weeks late, so I open myself fully to what the Universe chooses to provide.  It has been a beautiful year and for that, I am truly and profoundly grateful.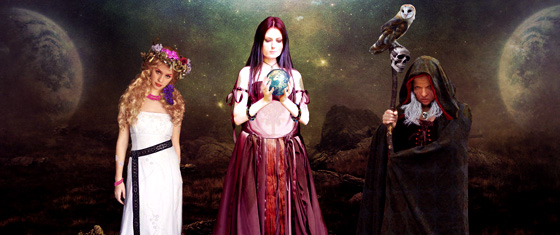 First, because it is 8:30 AM and today is already showing signs of being challenging bitch, I must have Jeff Bridges dance for me.  Dance, poppet.  Dance like you mean it.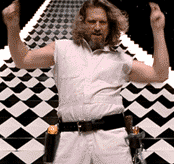 Hell.  Yes.
Anyway, yeah, Crones.
Traditionally, there are three aspects to male life:  The Creator, The Protector, and The Destroyer. That is because men used to rarely die of old age and died on the battlefield or being eaten by dinosaurs or whatever.  My spiritual path added "Sage," to this because in theory, men now get older and wiser and can share their guidance to the downline after they finish fighting all the battles and besting all of the dinosaurs.  Women, on the other hand, went through the progression of Maiden, Mother, and Crone.  That is because they had babies, got old at thirty, and died.  Now, there's this whole series of decades where women have raised their children, are empowered, and know what they are doing before they transition into "Crone."  Our spiritual path called this time "The Diva" because we are regal and strong, ass-kicking, and fully aware of our own needs and ambitions.  The Diva phase, quite frankly, rocks.  Often, the people around us do not react well to our transition from the Mothering aspect of our lives to the Diva.  Mother is very accommodating and nurturing and is a position of basic servitude and duty.  Diva…not so much.
I have always been one to push the progression and that is not a good move.  I had my first baby at sixteen, so I did not really revel long in the Maiden aspect.  I started taking care of my mother's family at ten, so I rarely got Maiden moments.  By the time I gave birth to my sixth child two days after I turned thirty-eight, I aggressively pursued the Crone…too soon.  I still needed my Mothering self to be a good mom to a six-year-old, a two-year-old, and a newborn.  That was when we developed The Diva, so I had a place to go before Crone.
Now, Crone is closing in and I could not be more thrilled.  A lot of women that I know in my age group are very devoted to clinging to past numbers.  They are eternally twenty-nine or will not tell people their actual age.  I am thrilled with every year that passes.  I love getting older and every year, I like myself more.  I feel as though I am finally settling into who I was meant to be.  I claim every one of my fifty-two years with pride and affection.  I did not like who I was at age twenty-nine and have no desire to be back there. There is nothing about my past that I crave.  That is not to say I would not change things if I could.  As I have mentioned in previous journal entries, I have an overall distrust of people who are my age and say that they would not change a thing about their pasts if they could.  To me, that smacks of someone who is either lying to themselves or lying to me.  I have a lonnnnnng list of things I would change, mostly about my own behavior and how I treated people.  I would be much more plugged in, especially to people I care about. I would take better care of my body back when it was easier to do so.  I would take time to be kinder and to listen more, but would also aggressively work to not be a doormat at times when I refused to defend my own boundaries.  I would have gone redhead and Goddess-dressing a lot sooner.  I would have been a much, much better mother to my older kids.  I would have appreciated my jobs more and worked harder at them.  I would have talked to my mother and father more and would have made sure to lose the anger I felt for them a lot sooner, before it was too late.  By definition, these are all regrets that I would change if I could, but I have made my peace with the fact that I cannot, at this point, change how things happened.
At age forty, I began all of the classic menopause symptoms.  I had just finished nursing Nathan and they kicked in aggressively.  I had extremely impressive hot flashes and night sweats, had the night restlessness, had palpitations, had a lot of my hair fall out, had the fatigue, had the mood swings, and figured I was well on my way into the last leg of menstruation.  In fact, I had everything except the actual "pausing" part of menopause and continued to flow like a schoolgirl.  I took Estroven to start with and then switched to Remifemin with great results.  All of the symptoms reversed after 2-3 years and when I happened to run out of Remifemin for a couple of weeks, I found I no longer had symptoms off of the supplement, so I stopped taking it.
A couple of years ago, I went through a time of having mild symptoms and a friend of mine who is a nurse practitioner and does all of my actual medical work prescribed the lowest level of HRT for me.  Within a week, I felt completely jacked up.  I was on edge in a way that is very much "not me."  I had breakthrough bleeding and bled almost constantly.  I felt chemically altered, so after 4 months of taking it, I eased off.   The first thing I did was to cut my dosage in half, hoping that would dial back the symptoms from the meds, but it did not help, so ultimately, I stopped taking them.  The symptoms again went away.
In the past 2-3 months, the symptoms have started up again.  I have everything I had when I was forty except the palpitations, but I do know that my blood pressure is a bit higher than usual.  I have been taking no supplements for months now, so I went back on the Remifemin, which has a 3-4 month load time (agh), a Vit B complex, chromium picolinate, magnesium, Vit D, flax seed oil, Cortisol support, and a multi-vitamin.  It tried a quality thermogenic supplement to increase my fat burning and quickly learned THAT was a bad idea, so it was dismissed forthwith.  I also have been taking EmergenC because everyone around me seems to be sick.  I rarely get sick and don't want to have this be the time it happens.  I also take a dose of chia seed in two ounces of chocolate milk each day.
This is day #3 of supplements and I do feel much better and my energy level seems to have improved.  It took a bit for my body to sort out what to do with this onslaught of "different stuff," but now it seems to be reacting well.  This is the cocktail of supplements that usually works for me and I tend to talk myself into not taking them anymore, much like people who need mood balancing meds start thinking, "I feel fine!  I don't need THESE" and then proceed to piss off everyone around them and wreck their lives.  I'm going to stick with this for a while and see if I can get myself straightened out.  I skipped a period a couple of months ago and have been on about a 3 week schedule since then.  The funny thing is that I do not have symptoms before it starts like I used to.  It just is suddenly there.  BAM!
A lot of people don't know this about me, but I was a childbirth and prenatal instructor for almost twenty years. I loved working in the birth field and only stopped because I relocated and never had a chance to start it up again.  After  awhile, I donated my teaching supplies to a group of midwives in Davis and moved on.  That time of teaching and learning gave me a valuable perspective about birth and about our own physical progressions as women. Largely as a result of that experience, I do not see menstruation, birth, and menopause as anything other than natural events that are to be welcomed and certainly not medical events that need to be "managed."
Yesterday was my worst hot flash day.  It really bled the energy right out of me.  This has been a high stress time for me, mostly because of issues with my children.  One kid was verbally attacked, and I mean a tirade of sailor language and screaming that went on for a while, by a woman in our neighborhood who is clearly mentally unbalanced.  My son and two of his friends were going door-to-door asking if anyone needed yard work or other handyman work done because they wanted to supplement their allowance.  An elderly man in town has a front door that does not latch from the outside.  He yelled at the boys to go around back and they did.  When he did not show up in a while (kids are impatient, what can I say?) they were walking back to the front to see if he still wanted them to be around back. She was driving past at the time, stopped her car, and proceeded to curse them a blue streak for tresspassing on his property.  She is in no way related to him and was just, I guess, trying to do her neighborly good deed for the day by screaming at my kid.  Eric phoned her home to see what happened and went to talk to the older gentleman to confirm Nathan's story, which he did.  The woman showed up again and began screaming at Eric as well!  This woman is famous in our town for isolating kids who are not with their parents and screaming and cursing at them for crimes real or imagined.  She has already been asked to please contact US directly if she has a problem with our kids rather than going off on them.  I am really afraid she is going to do this to the wrong kid some day and a parent is going to seriously hurt her.  Already, parents in the neighborhood warn their kids that "Mrs. D is not mentally healthy.  If you see her, do your best to avoid her.  If you get trapped by her, tell her that she has to talk to your parents, not her, and leave. If she physically tries to restrain you, scream as loudly as you possibly can that THIS WOMAN IS NOT YOUR PARENT and run."
Delena wrecked her car this past week, which used to be my car and I love dearly.  Fortunately, no one was injured, but the car was pretty much destroyed.  She is limping it around town to school and work until she can get another one.
My son (31) is between jobs and between places to live, so we are trying to get him settled in somewhere and gainfully employed.
We ourselves have just come out of a period of time where every one of our own vehicles went rogue and fell apart at the same time.  We prefer to invest in older vehicles because they are easier and cheaper to repair, but the trade off is that, well, they are older vehicles and as such, more subject to problems, even with the excellent maintenance that Eric provides to them.  Like women who synchronize their menstrual months (sticking with a theme here), all of our three vehicles collapsed in the span of a week or so, some with multiple, unrelated issues.  It was actually quite impressive to watch.  Slowly but surely, we are working our way out of that pit of financial and energy investment.
The world, She just keep spinning.
The Harvest was bountiful and we were well blessed in many ways.  That doesn't mean it isn't a time of exhausting work.  Just because your fields are full of food doesn't mean that you don't have to go out there and actually get it and preserve it and exhaust yourself with the effort!
My reward this year is finally feeling the full effect of the croning.  In looking for graphics for the banner for this entry, I found some lovely pictures: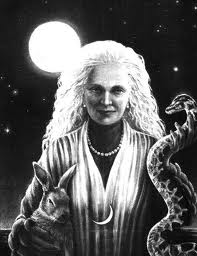 I have loved this one for a long time it speaks to me even more strongly now.  I love how she is the quintessential Crone, but she is still embracing the symbols of her fertility.
The next one is a poster for a one woman show and its eccentricity really made me smile: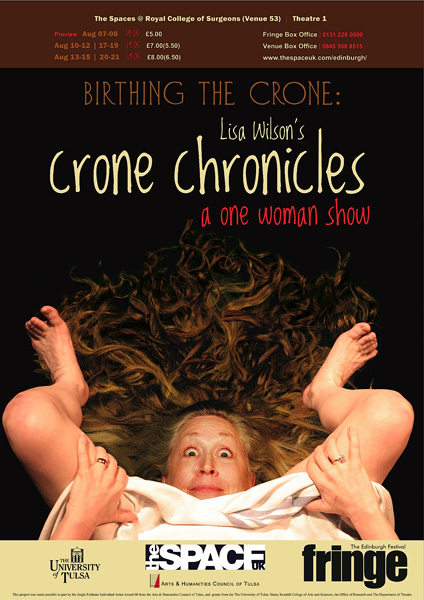 Thank the Goddess there are people who are that creative to entertain those of us who, like myself, are just not.  That really made me laugh.
I am grateful to feel good again, even if it is just today.  I am grateful to have worked my way out of the most recent Valley of the Shadow.  I learned a lot from it and have successfully retrieved my power eggs.  The greatest blessing is hearing from so many of you who related to my previous post and are setting about getting back their own power eggs and re-establishing their own empowerment.  I want to encourage all of you that this is a process.  It's also a "no fault" process.  We all do what we know to do and, as Mother Maya says, "When we know better, we do better."  Well, usually.   The power eggs can slip away from us when we get into routines and sometimes fall back into familiar behaviors that are not healthy for any of us.  It happens.  We can always stop and hit the reset button and get ourselves re-seated back into the healthy place.  What's interesting is that we are the only ones who can do that for ourselves.  We have to create our own boundaries and make new, healthier paths to walk.  Each time we do it, it gets easier.  It's natural to sometimes wander off of the path of clarity and healthy dynamics.  Sometimes, we are asleep at the wheel and don't realize that we've strayed off of the good road until we jerk awake and have to course correct.  It's never, ever too late.  We have never ventured too far off of the path to get back.  The path is always there, patiently waiting for us to find our way out of the brambles we strayed into and get back on course again.
It's not too late to say, "No" and mean it.
It's not too late to say, "I have been thinking about it and I have changed my mind."
It's not too late to say, "I did this, but now I am going to do this."
It's not too late to say, "I want to change who I am and how I engage the world."
It's not too late to say, "This is my boundary and it is not negotiable."
It's not too late to say, "I am going to treat myself better and give myself more."
It's not too late to say, "I am going to pull in my energy and give less to others so I am not exhausted all of the time.  I trust others to do for themselves now or to figure out how to manage their own lives."  This is particularly true if we are constantly working to take care of others who are grown adults and who desperately need to manage their own crises and circumstances.  We really, really do not have to control and manage every little thing, especially things that happen to other people. You will be shocked at how much your life changes when you let go of all you do to improve the life of other grown-ups and use that energy to improve your own life.  What in the world will they do when (not if) you are gone if they cannot learn NOW how to manage their own lives?  How much resentment are you creating in yourself by constantly giving beyond your ability to give and to recover and replenish?
We are not never-ending sources of energy, patience, and time (and money, usually).  So often, we choose to give away those very valuable resources beyond their supply and have nothing left for ourselves.  I am not saying we should always be selfish and ungiving.  I am saying that just like with our financial budget, we have to be very aware of our income versus our output.  Think of your flow of time, energy, patience, and money as a business exchange.  How well would a business thrive if every day it spent beyond its income and had no resources for its own overhead?  It would quickly be bankrupt.  If it borrows to pay those "bills," it is still going to fail because it will be unable to pay back the loans if it already cannot pay for the basic overhead.  It will just fall harder when the end does come.  This makes perfect sense to anyone with even rudimentary business knowledge and yet how often do we pay ourselves last and take care of our own "business" and "overhead" after we have made sure all of the people in our own care are satisfied?
The trick is, we know no matter how much we give to others and take care of them, there will always be a new need because that's life.  Not only is there a new need for them, we will have our own needs that manifest, so it's like sweeping a dirt floor; it just get deeper and deeper.  Consider this: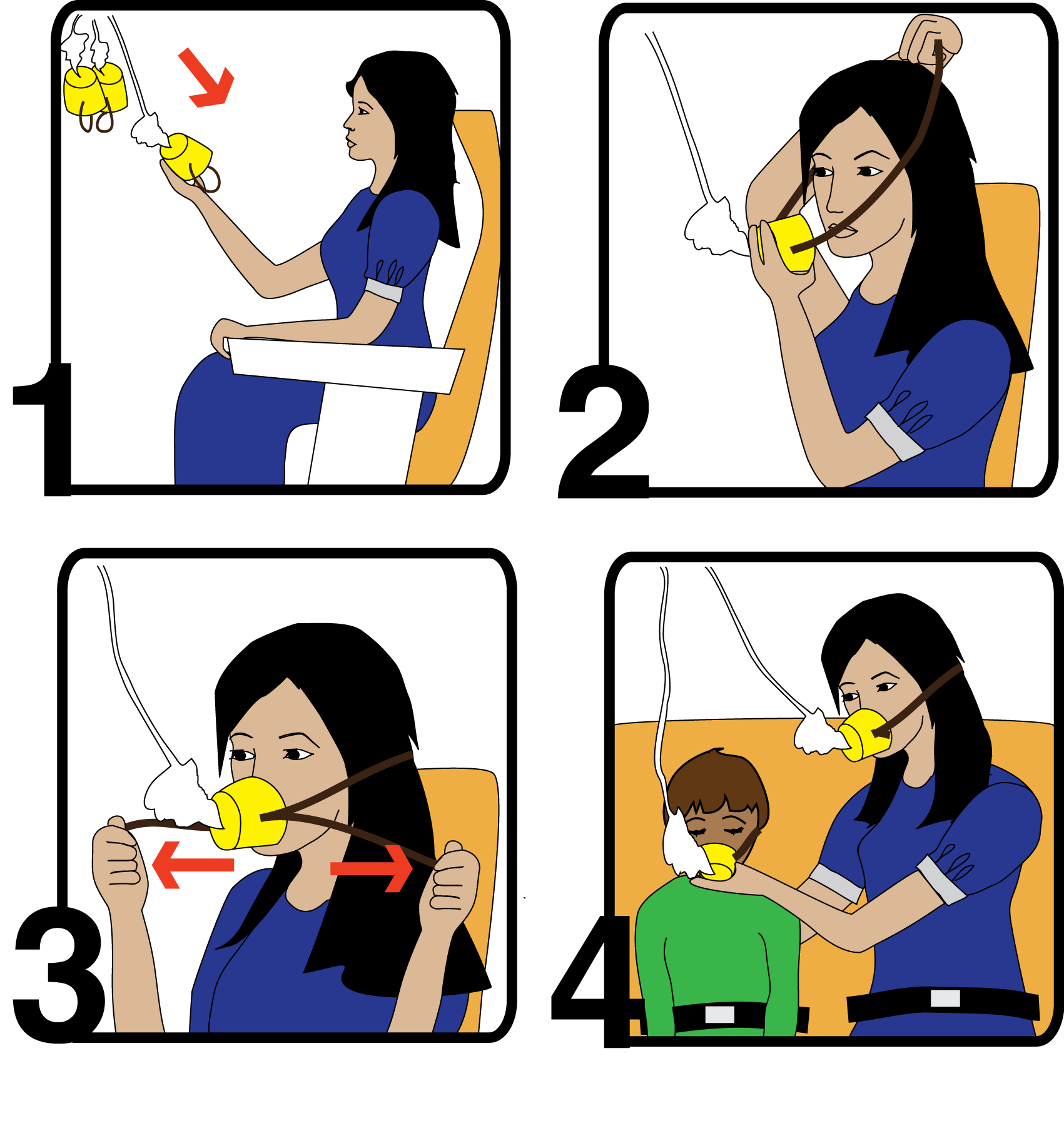 There is an excellent reason why every flight safety instruction lecture tells us to "put the oxygen mask on yourself first and then on children."  It's not that children are less important to airlines.  It's that the parent cannot help the child if they are not themselves oxygenated.
Have you been taking care of yourself before everyone else?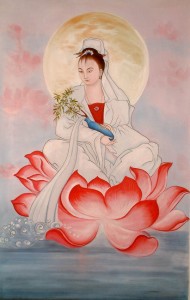 That is Kwan Yin, who is one of the most popular Goddesses and a favorite of many.  I love Kwan Yin and have many representations of her in my home.  I do not, however, want to be her.  Her gig is that she stands outside the gates of Heaven and refuses to enter and enjoy the joy and reward of Heaven until all of her children are safely inside.  She has a lot of children and is not above going out into the world and shaking them down and bringing them into the gates kicking and screaming if needed.  She will, however, wait until they have all been accounted for and are in the gates. Then and only then will she enter.  When I heard her legend, I know my face lost all color.
Kwan Yin has obviously never read the flight instructions.
She is the essence of the Mother.  Transitioning over to taking good care of yourself and putting yourself into priority while allowing other adults to be responsible, accountable, and capable is the essence of the Diva.  Letting others actually begin giving to you and taking care of you is the transition into Crone.
This year has taught me a lot about being realistic about where I am in my life, about not pushing the process, and about honoring myself as well as others.  It taught me to "smile and say thank you" and to accept the generosity of others because most people like to give back.  Last week's entry about taking back my power eggs was a transitional time for me to find my way back onto the righteous path and stop screwing around on the side roads.  I'm happy with where I landed and ready to dive into the dark of the year and incubate.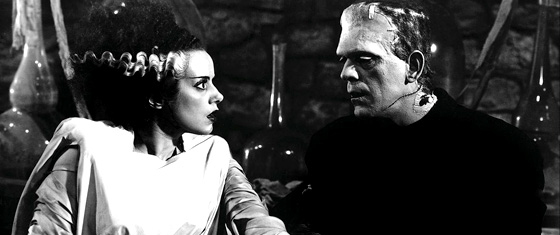 I have been invited by my publicist/agent/husband to update my blog again (I hate that word because it sounds like someone retching, but "online journal" is archaic and cumbersome) because the last entry is, in his words, "kind of a downer."  Fair enough.  Life ain't pretty, but it's not all bad either, so I can balance.  I never know where these posts are going to go and what detours they will take by the time I am done.  When I write a book, I also don't know what will happen and often I am eager to get back to the story to find out what comes next.  I have a basic outline in my head and know where the story will ultimately land, but not really the journey it will take getting there.  I have always admired these writers who are able to storyboard their entire process before they ever formally write a single word.  I am…well…not that.  I'm more of a "write it hot, edit it cold" stream-of-consciousness-type writer.  That is even more the case with blog entries.  I always get something out of doing it, but I never know what that is going to be.
[...here is where I cut off for a few days and then more things happened...sometimes, you just have to let the world turn a time or two to get things sorted]
For another theme, earlier this year, I made a cover for my Facebook profile, which was this:

That is where I was at the time I made this, back around May, I think it was.  Somewhere along the way, I lost myself, which is easy for us humans to do.  It's not that I don't still rock some grapes in that Carmen Miranda look, but more than my own power kind of seeped away for some reason and I have been floundering in that respect.  I'm not necessarily dis-empowered, but more than I am feeling tired and disillusioned and wanting to hide.
I have never been one to particularly care what other people think of me, but then, I have also been a person who has rarely put themselves out there for evaluation.  Most of my life, I have kept to myself and been a bit of a loner.  When I was young, that was less of my choice and more of where I landed.  As I got older, I went through periods of time of being more out there and open, but always, I would retreat back inside for a period of time, sort of like Punxsutawney Phil.  I have been out for a long time now in comparison to my previous history.  I made a lot of friends and enjoy being out here.
Lately, however, I have lost sight of who I am and who I want to be in the world and I have done a lot of meditating on that to try and work out what to do about it.  I had some sense of the nature of things, but the core was pretty elusive.  I could pinpoint where it started and why, but I could not locate my own culpability because I was lost in a sea of victimization.  Because how I was feeling was caused by external forces, namely other people, I got caught up in the "it's them, not me, so why do I feel so bad?" stuff.  Anyone who is a decent sort of person is full of self-evaluation, but sometimes, it is hard to get past the hurt if you have genuinely been wronged.
I was.  I was several times. Enough said regarding that part.
So here comes the next part, complete with a banner: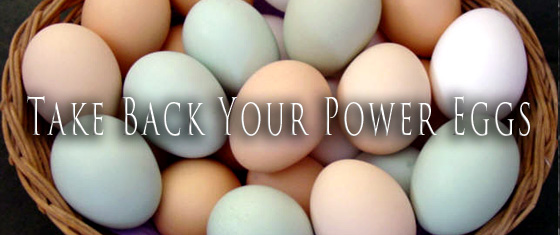 There is a bit of wisdom I heard a long time ago that was said to be Native American in origin.  The advice was as above:  "Take back your power eggs."  I even wrote in one of my books about this.  We each have a limited number of power eggs that represent our own empowerment. Every time we give energy to something or someone, we give away a power egg.  If our basket is empty, we have lost all of our power.  At that point, we have to take back some power eggs or we're lost.
For months, I felt whole and strong and happy and empowered.  No matter what adversity came up, I felt like I could handle it with grace, dignity, and strength.  I was an energy power house.
Somewhere along the way, I developed a leak and my power started to slip away from me.  Self-evaluation caused me to doubt myself to the extreme.  A previously healthy, perhaps even gregarious ego became anti-ego.  This started, I would say, back in July.  It wasn't in full swing by then, but that was when the process started.  I began to distrust my ability to choose friends, my ability to handle adversity, and my ability to trust myself on many levels.  Interestingly enough, July was when I began to see my greatest successes of recent past, but honestly, that is truly correlation without causation.  Although I will accept that all things are intertwined, in this case, the timing was largely circumstantial.
I began to allow myself to be defined as others saw me.
I began to let them establish my worth rather than being convinced of it myself.
I began to feel like an emotional ATM whose only purpose to others was to prop them up and make them feel better.
I kept looking to other people to validate my worth and say the right things to make me feel a particular way.
In attempting to be self-aware and question my own integrity in a healthy way, I created a monster of insecurity and, in short, a professional victim.
I began to have annoying nightmares.  They were not terrifying ones, but one that were about being victimized:  my kids being harmed or lost, my car being stolen, my house being robbed, my animals being harmed, being in a foreign country and allowing myself to be delayed so that I missed my flight home, being in a hotel and unable to find my room, getting home from a trip and realizing days later I forgot to check out of my hotel/return my rental car/pick up my luggage at the airport.
The nightmares were always about me being inadequate on some level or about someone else taking advantage of me or my family.  I am not a person given to nightmares.  For years now, I have had amazing adventure dreams that are frequent and fun.
I began sleeping less and less and was always tired in the day, but had insomnia at night.
I lost interest in more and more activities I used to love.
Life had no spice for me.  Everything felt dull and lifeless.
I had a friend dye my hair red and that kicked me up for a little bit.  The success of the books I wrote elevated me for a while.  Invariably, I would, like water, find my lowest level again.
Early July was not that long ago, only three months, and yet it feels like I have been lost forever.  When I think about how vibrant and alive I used to feel, it is like I am describing someone else.
So far, October in particular has just absolutely beaten the crap out of me.  One calamity after another has befallen.  I have to make a constant effort not to cringe.  I have to reprogram myself not to think "Oh Lord, what today?" when I wake up in the morning.  That is all clear victim mentality and now I can see it in retrospect.
For weeks now, all day long, this song runs through my head:
This clearly identifies that disconnect between Conscious Self and Higher Self that I talk about in Reuniting the Two Selves.  My spirit is crying out with musical lyrics for me to hear the message it is trying to send to my Conscious Self.  "I'm dead.  I don't want my love to go where it is not appreciated.  I need rest.  I am emotionally dead.  I don't understand why anyone wants to be with me.  There is nowhere to turn that is safe.  People are using me for their own needs without caring how I feel or what I need."
Wow.
So I re-read the last blog entry and yeah, it is real, but it is quite a downer.
As they say in the GI Joe cartoon, "Knowing is half the battle."  Now I know, it is my duty to myself to fix it and get back to living life.  Happy harvest to me.
It's easier said that done because I worry about creating that monster in the other direction: of being too happy, too full of myself, too successful lest it all go away, too confident less I'm wrong and really unworthy.  As the classic Virgo, I am over-thinking the process.
What happens next is that I start the process of retrieving my power eggs.  Some have been mishandled and it is up to me to put them back together again.  What is broken will be gilded to become a fabulous Faberge power egg.  I'm speaking in stupid metaphors, of course, but the real answer is that no one gets to define me and my worth except in their own mind.  Then, as The Dude so articulately spake: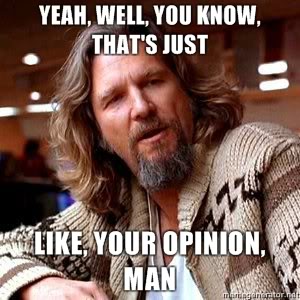 I can't be responsible for what other people think, even those closest to me.  All I can do is be the best person I know how to be with the tools I have available to me right now.  If someone else thinks I should do more or be more, they are free to offer their advice, but there is going to be some distance on whether or not I take it.  I will decide where my energy goes and when.  I will not be a victim anymore.
I will also not be afraid of whatever monsters may or may not come of this shift.  Bring on the monsters.  Elsa Lanchester had fierce hair anyway, so screw it.  I'm in it to win it and everyone else can get on board or get out of my way.  Big words, I guess, but they are from the heart.
If I was lying there still and cold and dead and stiff when I got up this morning or even throughout the day, suffice it to say that the life-giving lightning bolt has stuck and I am reanimated.  Now it's just a matter of seeing what gets up off the table and starts singing "Puttin' on th' Ritz."
Hey, I'm game.
This will be long.  Get a drink.  Go pee.  Read it in segments.  Blow it off because it is too long.  Whatever suits ya.
A lot of people do not know that when it comes to my author life, Eric (my husband) is the real brains behind the operation. I write the books and he edits and adds smart stuff to it, but mostly, his job is that he is my marketing jeanyus and all around manager/agent kind of guy.  That works out well for me because I get to spend all day, every day, writing and editing and creating and he does the dirty work that causes me to break out in hives of exasperation  Perfect arrangement.
He came to me recently, and honestly, it could be yesterday or it could be 3-4  weeks ago, because lately, my life sort of moves in a fog that ultimately results in thoughts like "Oh.  All these people are in my house now.  It must be a weekend."  Anyway, Eric said to me at some point in the recent past "You really need to update your blog."  In today's market of modern authorship, you not only have to write a good book or ten or forty, but you also have to be a master of social networking.  The advice I first heard was "pick one and get good at it" and my favorite is Facebook, so that is where I live.  You can find me there at www.facebook.com/katrinarasbold.  I used to be a major blogger, but it got to the point after around 15 years that not only did it feel as though all of my words had been said, but I also had just said them on Facebook, so I would look at my blank blog page and wonder what I should say or re-say and try to remember all I had Facebook'd for the past few weeks.
I recently sat down to post a blog entry, but instead, I did my nails, then baked Nathan's birthday cake, then showered and dressed for his birthday party that was not for another two hours or so and then frosted and decorated his cake and then went to his party and had a lovely time and now…here we are a week and a half later with me trying again.  Part of the problem is that the past couple of months have not been easy, so you get into that that fine line of what you should put out there and what you should keep public.  In the past, I have not so much walked that line, as drunkenly stumbled all over it and usually ended up lying face down on it, crying and getting "line" all over my face and clothes.  That's a metaphor, y'all.  Just go with it.
My baby of six children just turned fourteen, which more than launches me into the Crone Zone, especially considering that I was already at an age when I gave birth to him that had my father been attempting to marry me off, several goats and possibly some land acreage would have been involved and I am not talking in medieval times, I'm talking now.  I love being a Crone and when I recently had my own birthday, people would slyly say those things that they think a woman of "a particular age" wants to hear like, "Oh you're finally turning twenty-nine again, are you?" or "How does thirty finally look from the other side?"  The truth is that I want to claim every single ones of my years not only because I have come so far, but because it has been a hell of a ride.  I would not go back for anything in the world unless it could be done with full knowledge of what I now know and the ability to change some key mistakes I made along the way that over-complicated things and hurt people who in no way deserved it.  I am always suspicious of people, specifically those who are older, who say, "I would not change a thing if I could."  I always feel like they are not being entirely honest with themselves or with me, one or the other.  I have a ton I would change if I could.
It was a good year and even though the past month or so has been positively brutal, the knowledge that it is a formative and rewarding year does not escape me.  At the time of this writing, we are firmly embedded in the flow of the Harvest, on the brink of the second Harvest at the Autumnal Equinox. I feel confident that the Universe once again aced me on the planting.  For those of you you do not know, each year at the Vernal Equinox in March, I "plant" something to grow in my life that I will harvest in the Fall.  I have done this every year for the past sixteen years and it has never once let me down.  This year, I had two goals in mind.  I wanted a steady income stream for myself and I wanted to lose a healthy amount of weight.  I worded it exactly that way, too.  In my head, I had no designs on what the first goal would look like when it manifested, but I suspected the second goal was going to involve a somewhere between a hundred and half a hundred fat pounds taking their leave from me, depending on whether I got into an "average" body build or into my high school body build.
Oh Universe… you sneaky bugger, you.
The first part manifested beautifully, although I have not yet seen the fruits of my labor.  They will come sometime in October.  Wanting an income stream for myself is not a luxury to feed my ego and give me shopping money and fine cocaine to sneeze off of the mirror.  It is a necessity for survival.  At the beginning of Harvest, I had written three books that I self-published, Leaving Kentucky in the Broad Daylight (my autobiography up until I left Kentucky in 1978), Energy Magic ( a book about the properties of personal energy and Divine energy and how to use both to achieve positive life change), and CUSP, which I wrote with Eric (a book that provides a year long framework for creating long-term positive life change).  At that time, I had sold a handful of each of the books, primarily at our two major festivals in Sacramento.
After a lot of hard work and twelve to eighteen hour days at the keyboard, I now have fifteen books published on Amazon.com and they are doing quite well.  In fact, Energy Magic has consistently remained a number one best seller in Paganism on Amazon and not just among e-books, but among books.  That is all very exciting to me.  I have helped launch several other new, very promising writers and that is exciting as well.  I am in the process of writing a very wonderful fiction series that is so good I can't wait to see what happens next. It is sort of writing itself.
I am at last living the life I always wanted to live as a professional author.  If you want to see the books I have written, you can go to www.rasboldink.com and see a list.   When I first began publishing on Amazon, Eric got very, very excited and wanted to be a part of it.  Until then, he had only helped out with CUSP.  He went through most of the books I wrote and added some wise words here and there, so I added him as a co-author because he made the books tighter and better than they had been before.  At first, I was resistant to this.  Ego made me want to keep it all for myself and have it be something I accomplished on my own.  I did not want to share the spotlight with him.  At first, I also felt a nudge of resentment of, "Do you have to have your hands in every single thing I do?"  Almost instantly, I realized that these were self-defeating and selfish ideas.  The Energy Magic movement was something that we started together sixteen years ago and of course we should share it.  Also, because of California's community property laws, if we divorced, he would get half of my fabulous author wealth anyway, so why not put him to work?  As it turned out, and I mentioned this at the beginning of this entry, he had a flair for marketing and loves to do that part, so letting go of my ego and small-mindedness and small spirit-ness benefited me greatly.  I know the books are more successful because of his efforts and I also know that if I had said to him, "You know, I really want this to just be mine," he would have backed off immediately. I also know he would have always wondered how much more successful it would have been if he had been involved, regardless of how successful it actually was.  My point is it all worked out and the book thing is going well.  I hope to continue it for a very long time because in March when I did my planting, I really felt like those three books were all I had in me.  This is highly indicative of how The Universe works:  It shows you how strong and how deep you really are when you had no clue.
I did not have the tremendous success with the "losing a healthy amount of weight" as I envisioned, but I did have success. I lost a total of twenty-two pounds and I learned exactly what I have to do to allow my body to lose weight in a healthy and regulated way.  I just have not done all of those things.  There are a lot of reasons why.  I am happy with my weight loss and I feel wonderful. I have had some tremendous emotional revelations and that has been extremely valuable. I learned how to dress and wear make up for my body type and for the image I want to project.  I gained tremendous self-esteem and I feel really, really good.  Most of the time, I eat incredibly well and I am working more on the exercise.  It is a process.
The biggest challenge is the lack of coping strategies.  I do not drink, don't smoke, don't gamble, don't compulsively shop, don't whore around, and I don't ride the drama train.  My thrill seeking and comforting is limited to good food.  I have not over-indulged lately.  That is not the problem.  I do not binge eat and I do not purge and I do not compulsively eat anymore.  The problem is that in order to lose rather than just maintain the previous loss, I have to work at it aggressively,  24/7, and give it everything I've got.  If I eat healthy and have very moderately sized portions, I will maintain the weight I am now.  Losing involves more aggressive measures.
My other big challenge in this is that I love myself and do not have the self-loathing that seems to motivate a lot of people.  I've heard people say they would kill themselves if they weighted 150 and anytime they get above 130 or so, they go apeshit making sure that weight goes away and have a tremendously negative opinion of themselves until it is gone.  I, on the other hand, think I am gorgeous and exciting and vibrant and fun.  Alone, I would not likely think much about weight loss, but would instead, focus on the eating and exercise habits that make me feel my best physically.  I know that to be lots of vegetables, lots of lean protein, and minimal white things.  Since I did Carolyn's induction diet back in April, I am comfortable eating that way and it is my baseline.  The biggest challenge for me is not the loss of candy or cookies or fried things.  It's not even potatoes, which I used to love and now just taste sticky and starchy and gross to me.  It's soft drinks, sodas, etc.  I have completely given up on all artificial sweetener, so when I have one, it's the real deal.  I work hard to keep that at a minimum and usually have iced tea or water.  I very, very rarely drink juice anymore.  During my emotionally challenging times, it has lately been the soft drinks that do me in.  As soon as I have one, I blow up like a balloon and look like I should be floating over the Macy's Thanksgiving Parade with 9-10 burly men holding me down with ropes. No one has to convince me that I have to let it go.  I'm just not ready yet and there isn't really anything anyone can say to make me ready.  It has to come from inside.  I have already made so many positive life changes this year in regard to nutrition and I know this one will come as well. It's just not there yet.  Inevitably, when I post something like this, I get a lot of well-meaning comments and emails telling me about the poison I am drinking and the damage I am doing and why I should stop immediately.  I am confident that we all have things in our life we should stop doing immediately.  I get that.
A little over a week ago, I made the mistake of confiding to Eric, in the midst of our latest huge emotional issue, that for my Harvest this year, I had already harvested a ton of self-esteem, the knowledge of how to dress to look my best, and the skills to lose the weight, plus the twenty-plus pound weight loss and since what I had specifically planted was to "lose a healthy amount of weight," I was going to give myself some time off of having weight loss as my primary focus. I would still eat healthily and still exercise, but I wanted a break from having to focus on it all the time.
I should have never said a word because he lost his shit.  There was a week long conflict about how my excess weight impacts him and the family, how I am presenting myself as an Energy Magic visionary and I have to look the part, how I have let him down, how I have an air of failure about me because of my continued lack of success in this area, how there is something fundamentally broken inside me because I have not lost the weight, etc.  (All mostly paraphrased.)   Despite many previous conversations of this ilk, I totally did not see this coming.  I thought he and I were in a different place and wow, did I get blindsided. There was a time when I would cry and promise and beg and dissolve into a big puddle of self-hatred, but I have come so far since then and now I just get frustrated with him, which does not help the situation.  I try to look at him and see the pain and disappointment he is working hard to manage and sometimes, the hurt just takes over and all I see is "douche canoe," which does not lend to a successful and happy marriage in those moments.  He will readily admit that in all other respects, I am an awesome wife, but this one thing  just drives him nuts and sometimes, it overtakes him.  Likewise, I will readily admit that in all other respects, he is an awesome husband, but this one thing really irritates me.
As anyone who has ever lost a significant amount of weight will tell you, you can't do it for someone else; you have to do it for you and you have to do it when you are ready.  I do not feel that my planting was in vain and honestly, if I had not told him that I wanted to take a break from having weight loss be a major focus for me, he likely would never have known.  I learned so much this year about how my body responds to food and exercise and really fine-tuned what it is I need to do.  I lost a lot of unhealthy nutritional habits and I know they are gone for good.  I can feel the finality of it.  I am fully engaged in the ongoing process.  I just wanted a month or so without the goal in my immediate crosshairs so that attention could go elsewhere for a while.
Seeing his extreme reaction, I did not take the break I planned and got right back onto the boat again just to preserve peace in the family.  This did nothing to really abate the tension, which eventually worked itself out for the most part, but I am still processing some of the lessons from this experience.  In life and even when you are married to a good person, there will always be times that, well, suck.  The trick is to not let them define you, to clearly separate what is your shit and what is their shit, and to not take any of their shit.  ;)
On top of that, there's the whole other crap that goes on part.
I told you this would be long. Part of it is because it gets to the point that the stuff is too hard to talk about and like I said, you hit that line of whether to keep it in or let it out.
My son, Nathan, is the one who turned fourteen a couple of weeks ago.  Of my six children, he and Joshua (30) are the thrill seekers and are the ones who kept me on my toes the most.  The other four are fairly tame in comparison.  Nathan is easily led by friends, although he is greatly improving in that respect.  He loves to be popular and we all know how much trouble THAT can get us in, even on the best of days.  He also is Mr. Cause and Effect… "What will happen if we do THAT or THAT?"
Sigh.
A year ago last July when he was about to turn thirteen, Nathan let a friend who is a couple of years younger than he is talk him into going up to an "abandoned" house here in Grizzly Flats.  A lot of people have second homes up here and there are also a lot of houses that have been foreclosed upon or just left.  Of course, a house is never truly abandoned.  Someone owns it somewhere down the line.  I had encouraged Nathan to be friends with Jon because Jon, by all accounts, had a terrible home life and I thought maybe needed a good family example and a good friend example.  :/  Yeah.  Anyway, just before Burger Night one Friday in 2012, Jon and Nathan went up to the "abandoned" house and started screwing around.  They broke four windows.  Nathan says he broke one and Jon broke three.  They discharged a fire extinguisher.  They kicked in a shed door and looked around in the shed.
A neighbor near the house heard what was going on and even though she knows me very well (very small town…very), she chose to stand there and use her phone to film the kids and what they were doing rather than jerk Nathan up by his ass and bring him to me.  She also chose to come to me after she had already phoned the sheriff and gotten law enforcement involved.  Why she thought I would not rectify the situation myself, I cannot imagine.  What I would have done was contact the owner, who she knew, and let them know what happened, then have Nathan pay for and perform the repairs with me and Eric.  "Nathan, this is how you hang the new door you bought for the shed."  "Nathan, this is how you glaze a window."  If that was not plausible, we could at least choose our own contractors to do the repair work professionally.
But no.
Instead, the sheriff came to Burger Night and interviewed the neighbor there and spoke with me and then went to our home and arrested Nathan for vandalism.  Once it became legal, we were informed that we were prohibited from contacting the owner in any way.
I have since spoken with many kids in the area who confirmed that "kids go up there all the time and screw around" and the house is rumored in Grizzly Flat Kidland to be abandoned and we have already clarified the "abandoned" issue above but these are kids and they think they know things that they don't know.  The owner came to the house after being informed of what happened and was furious at all of the damage that had been done over the years.  He apparently had not been to the house in years and was not aware of what had been transpiring in his absence.  According to several people in the area, he swore to "make the parents of these little sons-of-bitches pay."
Mind you, I am not saying that what my kid did wasn't wrong and that he wasn't an idiot for doing it.  He was.  He was punished severely for a total of six months.  I am also not saying that the victim does not have a right to have the damages repaired.  He does.
So after this point, we waited since there was little else to legally do.  The statute of limitations on this arrest was one year.  About eight months into it, a juvenile probation officer contacted us and said we had to meet with him right away, so we dropped everything,  including Eric taking time off of work, and went to meet with him the next day.  When we arrived, he took us into his office and told us that he could not discuss the case with us at all because it was being referred to the District Attorney due to the "extreme amount of restitution" being demanded by the victim.  With nothing accomplished, we went back to wait some more.
Two weeks before the statute of limitations ran out, the same probation officer phoned us again and asked to meet with us.  Because Nathan had been under thirteen when the crime was committed, the DA had bounced the case back to the Juvenile Probation department to manage.  As it turned out, Nathan and Jon were, as we suspected, being held responsible for any damage that had been done to the property since the owner had last been there.  Nathan was sentenced to six month's of probation, sixteen hours of community service and two days of work project.  He was also given a "no contact" order with Jon, which was fine because he had not been allowed to spend time with Jon since the incident and Jon had, in fact, moved to a town that was a good distance away.  This was Nathan's first offense.  He also had to make restitution, which we assumed would be half of the damage.
We assumed wrong.
Nathan did his community service this summer and, in fact, did around 24 hours instead of the required sixteen.  He also completely his two days of work project a week early by our request.  About two weeks ago, we found out that Jon's mother is now in jail.  The father is nowhere on the scene.  California state law makes all parties involved equally responsible for the full amount of restitution.  It is not shared.  So if the person with whom you committed the crime does not pay, you have to make up their part.  Since Eric works for El Dorado County as a Veteran Service Representative and therefore, has a "means to pay" and since Jon's mother has not worked for many years and receives public assistance and is now in jail for whatever and does not have a means to pay, the entire cost falls to us and folks, we are talking four nice figures.  We have talked to, on and off the record, a handful of juvenile probation officers who have confirmed that there is really nothing we can do and that if this leaves Juvenile Probation and goes to court, such as with a restitution hearing, the matters are extremely weighted in favor of the victim and it would not likely go well for us.
To top all of that off, when his mother went to jail, Jon and his many, many siblings were fostered out.  Can you guess where Jon now lives?  In the house directly behind me.  If I am in my back yard, I can throw a rock and hit it and right now, that sounds pretty good.  The police approved the placement even with the no contact order in place.  So now this kid's bus stop is my driveway (literally) and his territory is up and down the streets that my property corners.
On top of all of that, my other wild and crazy son lost his home and he and my grandson are now basically homeless and living in someone's garage off of their good will.
Let's see, what else?  Both of the Cadillacs (my 91 and Eric's 78) have been down with a number of major issues from shocks to water pumps to fuel pumps to blown up radiators to brakes to the air conditioning and of course, the radio does not work in either one, which is certainly not major, but while I'm making a list, it counts.  Eric is frustrated and tired and angry from having to work on the cars all of the time and still, his car is not fixed.  That doesn't count something major that went out on his mining truck, just insert miscellaneous major mechanical thing here, as well.
I am looking for the lesson in all of that as well.
In addition to that, I got a refurbished iPhone 4 in May and was all excited and uppity about it and a few days after the 90 day warranty expired, the back light screwed up and apparently has to be taken to the Apple store (90 minutes away) and sent away at a charge to be fixed.  The brightness will only go up to halfway before the back light will go black, so I am squinting to see unless I am in total darkness.  I took it to the ATT store and they played with it and said, "Oooh.  Yep.  Broken."  Since I have given away all of my phones that I transitioned out of, I am kind of up a creek.
We always say that "nothing that happens at Harvest time is a bad thing" and that it is all part of the plan to move us toward a better place.  I am trying hard these days to keep myself seated in a positive, joyful space, but it has been hard and a couple of times, I have fallen into a pretty deep depression.  That, of course, rarely avails anyone anything and even though I am comfortable and familiar with my dark places, it is not easy for my family when I am there.
I do not enjoy being around people very much now because everything seems to hurt, so I am staying sequestered for the most part because it takes all my strength to stay whole and together.  If I do choose to spend time with you during this time, you must be very special indeed.  :)  If I do not and end up refusing a situation, it is likely not because you are anything less than special, but more that I do not trust myself that day to hold it all together and put on a nice public face as well.
As the old song says, "We'll understand it all bye and bye."  Right now, the only understanding I have is that "life happens" and I am trying to keep my head straight and my back strong rather than collapsing into a pile of tears and snot and resentment.  The smile is important and I keep it around most of the time.
I may not have lost as much weight as I intended when I planted, by some days lately, I sure do feel small.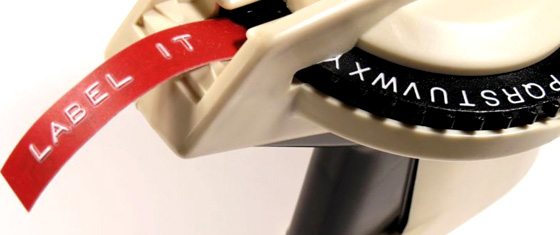 It was quite a process, really.  I wrote my first short story in the fifth grade and the entire student body was scandalized because in my story, I paired up very unlikely people from my school into romantic relationships.  I had threats, people telling me I'd better stop writing right then or risk a beat down.  (!!)  The effect this experience had was not the one that was intended.   Instead of discouraging me from writing, it instead taught me that when you are a writer, you can hold a person's strongest emotions in barrel of your pen.
I was hooked forever.
I took Charles Lindsey's writing class when I was a sophomore in high school and wrote a good bit more then.
I started my first book in 1982 and let me tell you, it's still not finished.  I have been working on that particular story off and on for literally 31 years and I still can't find the handle to get a grip on it.  It's a great tale, but the story structure evades me.
In the early 1990s, I began to write small spiritual pieces here and there and in early 1998, I developed those into two books, which I printed and bound and Eric then took around to leave at shops on consignment.
In later 1998, I secured a gig as a soap opera journalist and worked aggressively at that for around ten years or so, then not so aggressively at it because I got bored with the subject matter.  I enjoyed writing my non-soapy stuff more than I did the soapy stuff, so I naturally migrated to that.
In 2012, I became frustrated with my lethargy in regard to serious writing and took a big step.  I knew that the difference between a dream and a plan was a target date, so I booked myself into a presenting author slot at a local festival.  The thing was, I had no book.  Not even one.  That was in January and by June, I had two books written:  Leaving Kentucky in the Broad Daylight and CUSP:  A New Way to Walk An Old Path.  By September of that year, I had added a third:   Energy Magic.  It was good to be published; even self-published, and I felt accomplished having at least something substantial in print.  These were the first manuscripts I'd ever written that were not actually typewritten on a typewriter or even several typewriters.  I used an IBM Selectric, a Canon Typestar that took special (read "expensive"), heat sensitive paper, and a Brother WP-1400D that was a kind of word processor with a screen the size of a 12″ ruler.
I have learned a lot over the years and I am a better writer now than I used to be.  When I even look back over some of my older online journals, I am surprised to see how bitter I was, how sad, and how difficult it was for me to express myself.  The words would pour out, but they were not as authentic as I would have them be.  There was always that part of myself that I kept locked up.  It was a room where a good part of my personality cowered and shook and cried and stayed in a fetal position.
Over the past 3-4 years, that door has gone from being cracked open to blow wide with a gale force flow through that has cleared out all of the debris and garbage.  I don't cower and whimper now.  I walk tall and proud, for better or worse and for right or wrong.  I learned how to own it and work it.
It was not easy and it was a long, grueling process and for sure, there are still ongoing challenges, but I feel the way you feel when you have run for miles and miles while you're interval training and you can finally start walking again.  You are not yet there and the end isn't even in sight, but you've come a hell of a long way and you're moving at a slower pace and it feels wonderful.
As many of you know, my spiritual path is set up in such a way that I plan in the winter, plant in the spring, nurture in the summer, and harvest in the fall.  I do not usually plant actually seeds (although sometimes, I do), but instead, harvest goals in my life;  long term positive changes that build on one another from year to year.  Eric and I have used this process for over 15 years and had tremendous success with it.  This year, I planted an income stream for myself, then kicked back a bit to weigh out the options that presented.  There were several, probably 6-7, and I expect to pursue 2-3.  The one that interests me most is writing and what I consider myself to be way down in my bones is a writer.  The close second is "teacher," because I love teaching workshops and sharing information with people.  Public speaking is definitely a favorite experience of mine.
Since January of this year, I have written nine books.  It was an absolutely exhausting process.  All twelve of my books went up on Amazon.com this week and that was also an exhausting process because each heading, each paragraph, each image, has to be very carefully and precisely formatted or you have a glaringly imperfect product.  I finally have the publishing side down pat.  Now I get into the marketing part and the "writing more books" part.  I have several in mind and look forward to getting into them.
In August, both of my youngest sons will be in high school, so they will leave the house every weekday at 6:30am.  That will give me an entire day to write.  I have a 10 books fiction series I am eager to write.  I have a book on the energy we put into food as we cook it and prepare it for serving.  That book will also have tons and tons of recipes and kitchen hints.  I have a book of my mother's poetry to prepare.  I also have the sequel to Leaving Kentucky in the Broad Daylight to write.  It will be called I Aim to Misbehave and yes, yes I do.  I still want to write When I Die, Just Bury Me at the Wal*Mart,  which is a book about the low expectations women place on their own worth.  That should keep me busy for the rest of the year and, with any luck, generation enough income on my part that I don't need to go actually greet people at the Wal*Mart, but can instead, just write about being buried there.
We all love our labels and being defined in the world and after 15 years as a journalist, I finally feel accomplished enough to say, "I am a writer."  I can also say in all honesty, "I am tired."
See you again soon.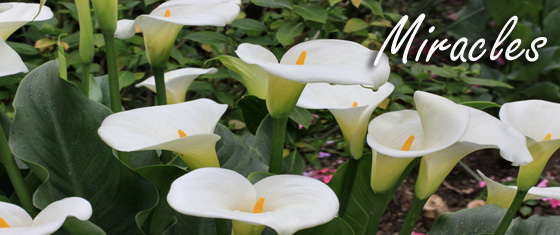 So I had this cool thing happen that I want to share with you.  I have another thing that is going on that I will put in the Fatastic Journal before long, but this one is different and goes here.  I have a lovely woman with whom I am acquainted whose husband is a chiropractor.  Before last Friday, I had not met her husband and had not particularly formed an opinion about him based on my interaction with her.  You know how sometimes, when you meet a lady friend, you kind of get an idea that you don't like her husband even before you meet him?  Is that just me?  Anyway, that didn't happen and he was just "her husband" in my mind with no preconceived ideas.  I have often been leery about chiropractors in general because while a General Practitioner will listen to your complaint and say something like, "Hmm, take Motrin," a chiropractor gets right in there and monkeys with business that makes you walk (or not) and move comfortably (or not).  I know there are good chiropractors and bad chiropractors out there and I have heard about a thousand stories from each side of the fence.  Since I know this woman to be capable and smart and fun and open-minded and interesting, I didn't think her husband was one of the bad ones by any means.  I just couldn't imagine why I would ever really need a chiropractor.
Anyway, a mutual friend of ours mentioned the chiropractor to me and said, "You absolutely have to do this." I asked why and she declared that he was just a miracle worker.  Evidently, this guy is just the best energy practitioner in the world and works miracles on a person's body.   Being almost 52, I am not without my aches and pains and I just kind of live with it and go on.  I accept my body quirks as part of being heavy or part of getting older or both and don't think much about it.  I took bellydance classes, which I loved, and stopped because my hip pain was increasing significantly as I progressed.  At first, I hurt for a day or two after class (which was once a week).  By the time I quit, I'd reached a point where I just never stopped hurting… until I stopped taking the class.
Buoyed by our mutual friend's enthusiastic endorsement, I made an appointment and for the first time in over 14 years, went in to see a doctor.  In the interim of those 14 years, I have had two pap smears, both of which were performed by a nurse practitioner.  I don't really have anything against doctors.  I just don't really need one.
I went into the office and he asked no questions.  He knew nothing about any aches or issues I have.  He was very friendly and amicable, which I not  only appreciated, but suspected given the fact that I really like his wife and most really smart cookies are not married to total assholes (although some certainly are).  The first thing he did after I poured onto the exam table was he picked up my left ankle and told me that he was going to press in and he wanted me to resist.  I did and thought I did pretty well.  He then asked me to grit my teeth and do the same thing and I did even better, so I felt totally proud.  Nope.  As it turns out, that's bad because it means that my energy flow is only really there when under stress.  He told me I had almost no functional energy flow and that my energy was basically just sustaining my life support.  That did NOT sound encouraging.  He worked on me for probably 45 min or so.  He moved energy around my internal organs, but worked primarily on my shoulders, neck, and the base of my skull.  I never felt any pain during the process (my friend said she'd felt incredible pain, so I was prepared if that happened), but I did feel pressure.  He'd asked me not to drift off, but to stay present, so I resisted the urge to go all meditative when I'm still for any length of time and particularly when someone is pushing on feel good parts like my shoulders and neck.  I even had the thought go through my head that while this was very nice, my neck, shoulders, and base of my skull didn't really have any problems.
After a while, he said that he thought he'd gotten some flow going again and asked me to roll over and slowly sit up, then stand up and walk around the facility a bit.  I knew from my study of Energy Medicine that walking causes the body meridians to cross and helps things flow better.  I noticed as we walked (I was barefoot) that I felt odd, but didn't think too much of it until we got back to his exam room and I realized that what felt odd to me was that the chronic pain I'd had in my right knee for months was now completely gone!!  I was shocked.  I put pressure on my right leg, moved it around, tried to get it to hurt and it just wouldn't.   This is a pain that has kept me up nights because I have to prop pillows in a certain way all around my knee, flex it just so, and that is to get it to a point that there is enough of a reduction in the pain that I can get to sleep.  If I move at all, the pain wakes me up.  About a year ago, it started out as intermittent, but since January when I started exercising now and then, it hasn't let up.
He told me that my problems stemmed from damage sustained at some point when I'd injured my cervical spine and cranium.  That injury occurred thirty years ago, folks.  We lived on Jays Croft Circle on RAF Bentwaters in England.  In the base housing, the floors were concrete with vinyl tile over it.  Over the tile, we'd placed indoor outdoor carpeting (it was the 80s, what can I say?).  Paul (my first husband) and I were goofing around and he was behind me and managed to reach through my knees and grab my hands.  I told him, "I'm going to fall!" and he said, "No you won't!" and pulled hard on my hands.  I face planted into the floor, hit hard and blacked out.  When I came to (I have no idea how long I was out), I had a bag of frozen corn on my face and I was laughing hysterically.  For several minutes, I could not stop laughing and trust me, there was nothing funny.  It was some kind of bizarre neurological reaction. Paul asked me if I was OK (clearly not, Einstein), and I said that I was a long, long way from OK.
A couple of days later, I finally got him to take me to the ER because my neck was in terrible pain and I could not move it in either direction.  I remember seeing the xrays and the doctor said I had a hairline crack on my cervical spine, bad whiplash, and possibly a concussion, not to mention an eye hemorrhage and some serious rug burn on my face.  Being a military facility, I was given a giant bottle of Motrin and a C-collar and sent home.  It was easily 2 months before I could comfortably move my head in free range of  motion.
All of that flashed through my head when he said, "cervical spine and cranium."  Wow.
I thanked him and went on my way to meet Eric for lunch.  There was a bit of a traffic back up at the off ramp and as I was looking at the people in the cars coming toward me, I realized that I was really connecting with them.  It was like I knew everyone's story.  Had this energy movement somehow amped up my psychic vibe?  Then I realized that I could really see the people.  I looked around and saw that I could clearly read the road signs.  ?!  My eyesight isn't terrible, but it sure isn't 2o/20.  Or wasn't.  When I got to the restaurant, I could read the menu without my Old Lady Reading Glasses.  ?!  Eric even mentioned how sparkly my eyes were.
Since Friday, I still have absolutely no pain in my knee, which is amazing to me.  I mean it had been there all the time.  My vision did not stay as clear as it was right after the treatment, but it is not as bad as it was before.  To me, this is nothing short of a miracle and I am very excited to see where it leads!  That's why I had to share it with you!  I feel VERY fortunate and blessed right now!
By the way, it was THIS GUY!
(and he's cute too!)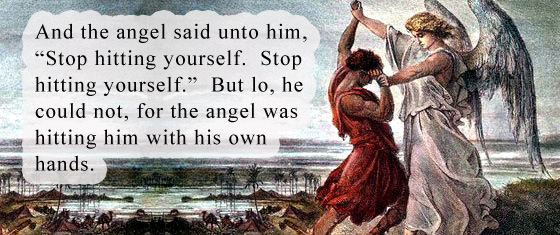 First, we should watch this for a while: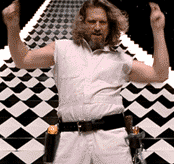 And we should do that because it makes us feel
happy and vibrant and alive and like we want
Jeff Bridges all to ourselves for about 4 hours.
OK, enough of that.
Wait… just a little more.
OK, now I'm done.
I was thinking about the book The Red Tent by Anita Diamant and how the women in that book found their own strength even in the face of tremendous patriarchal adversity.  Women are just wonderfully diabolical in their abilities to keep the light of inner strength burning; that flame that cannot be touched or stifled without their permission.  We persevere.  We endure… until we don't.
Another book – or series of books – that I read last year was the "Outlander" series by Diana Gabaldon.  Several of my friends recommended it and so I finally got around to reading it a few years after I first heard about it.  The first book was interesting and likable and combined several elements I enjoy, chief of which are time travel, magic, and kilts.  Something (BIG) bothered me about the first book, but I found the story intriguing enough to continue and got barely into the 4th book before I just couldn't do it anymore.  There was fierce romance, devout love, sacrifice…all the things you want.  That thing in the first book would not let me go no matter how much they tried to ignore it or justify it.  Our romantic hero brutally beat the female romantic lead with a leather belt.  Mind you, she was FIERCELY miffed with him for a solid fifteen minute or so and mind you, she DROVE him to this SAVAGE beating by being so headstrong and willful.  I'll say that again:  He beat her with a belt.  This was not a matter of the formulaic story of Hero does something awful to the Heroine and she hates him, but eventually falls for him.  This was AFTER they proclaimed their love for one another.  This book, by the way, was awarded the RITA Award for "Best Romance Novel" in 1992.
I realize that century after century, women got the shitty end of the stick in terms of being chattel and property, secondary to a man in every way.  I understand and greatly appreciate that we live in a more enlightened time when a woman is free to claim her own empowerment and show a man the door if he insists on dominating her when she doesn't want to be.   I get that Ms. Gabaldon was merely writing into the reality of the time period our 20th century heroine found herself deposited into, seemingly without recourse.  It's not in me, however, to coo over a love story that involves that component.
I am still mourning the fact that the audio book version of The Mists of Avalon by Marion Zimmer Bradley that I was reading ended and I am sorely tempted to wind that bitch right up and start listening again.  I read the book (as in turned pages as opposed to listening) many years ago and enjoyed it, but listening to it was a whole new experience.  This time, I was touched by the female roles and how they handled their own empowerment.  Set in approximately the same time period of Outlander, when the Saxons invaded England, this book was about women who were facing tremendous obstacles and worked aggressively for the beliefs they held dear.  Several of them refused to be subjugated and stood in their own power, unyielding to the invasion of patriarchy and instead upholding the matriarchal principles.  They were women who refused to kneel or be told by men how to behave.  There were female characters who found comfort in the confines of male power and ones who embraced their own empowerment, sometimes to the extreme.  Sure, by the end of the book, the whole world had completely gone to shit and pretty much all of the characters met horrible deaths and endured the destruction of their dreams and aspirations.  The message seemed to be that Fate has its own plan and how you engage it is the key to, well, everything.
As many of you know, in my own spiritual tradition, we "plant" goals for ourselves every Spring Equinox and without fail, those goals manifest in the Harvest time between August 1st and November 1st.  If the goal doesn't manifest specifically as we envision it, we get better or we are shown why now is not the them.  I've done this for many years, 15 now, I guess.  This year, my goals are prosperity (always), healthy weight loss (going great), and embracing my own power.  That one has been tough for me and it wasn't really until today that I saw how the books I have read over the past year, including a couple of others, have all pointed directly toward that theme.  There are both blueprints and cautionary tales.  It has given me a lot of food for thought for how I want to live my life and engage the world.  It has also shown me many ways that I give away my own power and do not even realize it.
Last year was all about friendships.  I felt lonely and planted that I wanted to have grown-up, mutual, loving friendships with women.  My relationship with women has been dicey over the years of my life and a lot of that is because of – you guessed it – my relationship with my mother.  She was ill a good bit of the time and so ours was a sort of reversed role relationship.  I didn't appreciate her enough until she was already gone, sadly.  I miss her.  I was so busy being angry with her that I did not have a strong, supportive mother that I missed out on who she actually was.  This set the tone for me to create relationships with women in which I was the caretaker.  I was the easy friend who was so low-maintenance and never required attention or support beyond an email here or there.
A couple of years ago, I really started to feel the lack of close female friendships in my life and  began to notice a lot of one way action in terms of energy flow in my relationships.  That prompted me to plant the friendship seed a year ago and I now live in a garden of magnificent, empowered women who I adore.  Last year was by far my most successful planting yet.  I had to put myself out there a little more than usual, pry open some doors I'd welded shut, and let myself be vulnerable, but it was very well worth it.  I have dear friends of all ages now from 20s to 70s.  These are strong, kind, funny, devoted women from all walks of life and honestly, I don't know how I ever lived without them.  With their support, I often feel as though I float through my life and it is an honor and a privilege to give back to them.  This is so different from the previous experiences I have had with female relationships.
A few of my existing relationships went away.  Some I could tell were very one-way and I was the one doing all of the giving.  Others were just inattentive and when I stopped reaching out, they pretty much ended.  I do recognize that I am the one who changed the demands and the dynamics and that is always hard for everyone involved.  It was a process to get through, but I am very grateful for the outcome.
That network of wonderful women gave me the foundation I needed to really engage my own empowerment.  It's something I've shied away from for literally years and years and now it feels very timely, authentic, and profound to come into my own,  for lack of a better phrase.  Every single day, whether it's quiet or rewarding or challenging or exciting, I am given another piece of the puzzle – sometimes, 4-5 pieces at once.  The make-over I got went a long way toward framing up the person I want to be in this world.  Something about that particular change of clothing, hair, and make up changed who I was and made me more fully me.  The last of anything remotely frumpy faded away and my own eccentricity and regalia was brought into focus. I could really feel the shift and now, I can't imagine going back to the way I was before.  It's like once you see something and then you can't unsee it.  Once I've been something, I can't unbe it.
My weight loss efforts fall into this area as well.  One morning, I woke up as a strong, healthy person who was not overweight.  My body has not yet evolved to the point of catching up to the mindset, but in my mind, it's already accomplished.  I am comfortably and naturally doing the things that will cause that to happen.  The empowerment just makes it happen.  Like they said, it happened on the inside first.
In that book The Red Tent, Jacob (son of Abraham), who is depicted in the photo for the journal entry, has an experience in which he spends the night wrestling with an angel.  In the actual Bible story, there isn't really a point to the event that I could ever identify.  Neither of them actually wins and it's sort of an odd little interjection into an otherwise banal story.  In the context of the fictional account by Anita Diamant, it makes a little more sense, but she is drawing heavily from poetic license.  The commentary on the photo above made me smile a little because I thought about how often we are our own worst enemy.  We run from our own empowerment for so many reasons.  Like Spiderman is taught, "With great power comes great responsibility."  If we are weak and helpless, no one expects much from us.  We rarely have to make decisions and it's not within us to be discerning about where our energy goes (and to whom).  We are little pinballs that shoot around the board of life, hitting bumper after bumper, lighting up parts here and there, ringing an occasional bell, and always being an effect rather than a cause.  We wait to see where life takes us, passively going with the flow.  We find out where everyone else wants to eat before where we decide what restaurant to choose.  We make sure everyone else has what they need, then we piece together our own serving from the leftover crumbs.  We interpret strength as not needing support or affection or validation from others.  We interpret worth by how popular we are in numbers rather than by the quality of the relationships.  We accept disrespect and abuse as simply a part of human life and know that the good will outweigh the bad.
That isn't enough for me any more.  Life reward action and as my favorite macho hero, Captain Malcolm Reynolds, says, "I aim to misbehave."  I've all of a sudden turned into a very uppity broad and I am no longer willing to watch life from the sidelines.  I've always had a perfectly reasonable excuse for why I am overweight, for why I stay at home like a hermit, and for why I say "no" to life more than I say "yes."  I've always maintained – truthfully so – that I love myself as I am.  This self is ready to be different and this year is the pivotal time that it will happen.  To those who are in my convoy, let me just say, "Get in, sit down, buckle up, hang on, let's roll."
I've spent a lot of time feeling beaten up by The Universe, just like poor Jacob up there in that picture.  I've been blessed abundantly and never denied that, but I've also had my own share of irritants and challenges and obstacles.  Now, as I look back with what I can't unsee, it's easy to see that I spent a lot of time creating my own imprisonment and carefully crafting my very effective limitations.  A long while back, I wrote an entry that was titled, "The Glass Ceiling:  Break It, Don't Windex It."  Even then, I was only starting to get the gist of where I was headed.  Like poor Jacob, I am tired of beating myself up with my own hands.  Time to turn that energy outward and get busy living instead of getting busy dying.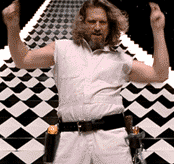 You're welcome.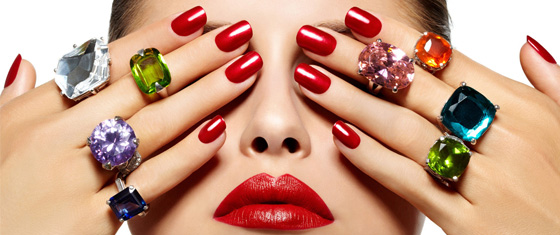 I hate that game.  A lot of other people must as well because it isn't nearly as popular as it was 40 years or so ago.  You know the drill.  You're standing around, minding your own business, when some jackass walks up behind you and covers your eyes and says, "Guess who?"  You're left with a voice that is likely disguised that you have to put through a mental roll-a-dex (google it) of how many people would have the nerve to do such a thing, plus the added bonuses of the smell of their hands and a rapidly deteriorating font of patience.
Each year around this time, I get to revisit all of my greatest weaknesses and decide which one(s) I will tackle for the coming year.  It's sort of like when the kings used to have one day when they would hear the petitions of their subjects and render their judgments.  All of my inadequacies get gussied up and prepare their convincing arguments for why they should be the focus of the year for attention and repair.  It's exhausting on a lot of levels.
I knew early in the year that this time when I did my planting on Spring Equinox, I would be working on my weight.  This is an issue that has plagued me to a serious degree since the early 1990s, but was in my head as a problem since I was around 10.  It was one of those things were I was a healthy size and looked great, but always felt I was fat.  There were a lot of reasons why I felt that way, mostly irrelevant now.  The primary reason was that I had extremely low self-esteem and I substituted someone else's opinion over my own and trusted that they were right.  (They weren't)  Now I am the real deal of obese instead of just having the mental image that I am and I have to deal with the roll out of that.  This is my year to genuinely tackle the problem rather than just talking about it and making reasonable excuses.  I have put in some preliminary efforts because what do you do before you plant if not line up the seeds and tools you will use when the time comes?  Early efforts are encouraging, so hard core manifestation begins in 10 days.
One of the most encouraging experiences I had in this respect was that when I was at the gym on Wednesday, I was able to run on the treadmill.  I have not actually run in over 20 years.  I normally just walk fast.  Mind you, even when I was an avid runner, I did not move very fast.  Mostly it was fast walking with a different form that was closer to running.  It got the job done, however, and was enough like running to be called running.  I was doing my usual fast walk on the tread at only 3 mph.  About a half mile in, I wondered what would happen if I started running like I used to.  I have not even attempted such a thing since I stopped running well before Delena was born and I would put that at around 1989 or so.  I changed my form (but not my speed) so that I was actually running and thought I'd put in a quarter mile or so if I could.  A quarter mile came and went and I was feeling OK, so I kept going.  I ended up doing almost 2 miles of running, then a cool down.  The sweat was pouring let me tell you!  I'd been listening to an audio book while I was on the treadmill and the time just ticked away.  Eric came in a few minutes before my run ended.  I didn't actually end the run and probably could have gone on a little longer.  Unfortunately, in my blur of success endorphins, I decided I was curious about how many calories I'd burned.  I pushed a button on the screen that looked exactly like my menu button on my computer browser.  The belt immediately sped up to a ridiculous speed and I went flying off the back of the treadmill.  What is confusing is that there are clearly buttons on the screen that are intended to increase the speed, both incrementally with up and down arrows and instantly with numbered buttons for mph settings.  Why this suddenly went nuts, I have no idea.  I sustained a good friction burn and a bruise on my forearm, but was otherwise unhurt.  I was, however, done with exercising for the day.  As I left, I was congratulated by the other people working out in the area on how gracefully I fell.  At least I score points for something.
A friend of mine is a personal style consultant and I bartered with her for the full package.  She did a makeover for me and showed me what products to buy.  This week, we are going shopping for pants and bras.  I am  happy with the results, although the makeup is more than what I am comfortable wearing, so I suspect I will adapt it down a bit, taking most of the advice and putting it into practice and just backing off on the amount of product used.  Here are a couple of photos from the photo shoot:
The advice on hair, eye makeup, and wardrobe is info I will use for ages.
The makeover goes along with the other issue I plan to plant on the Equinox, which is about embracing my own power and accepting who I am to the fullest.  I love my inner power and have courted it for several years now, but there has always been a point where I pull back and let insecurities take over.  This is the year that I maintain a healthy self-awareness, but also push away a lot of the insecurities that cause me to doubt myself.  This year, I will work to accept and celebrate my own power and who I truly am at my core being.  The reason I brought the Peek-a-Boo theme on board is that I've been playing this bizarre game of hide and seek with myself, my dignity, and my strength for a whole lot of years.  It is definitely time for that to stop.
With one book written this year, I still have three more to follow if all goes well.  School is proceeding comfortably and I just finished up one half-semester class, so now I only have 3 to juggle each week.  One, the math class, is the one that threatens my precious 4.0 GPA.  I still have 8 weeks to drag the grade up from a B to an A and I am trusting that I can do that.  The other two classes, History of Rock and Roll and Intermediate Web Design are not ones that I worry about too much.  I don't take classes in the summer and I have really started to question whether or not I will in the Fall.  I will know a lot more when that time rolls around.  Meanwhile, I am sensing some changes afoot that might influence that decision.
The weekend was very challenging for a lot of reasons, so today, I am in recovery mode.  There is a good bit of housecleaning to do and I keep looking at it and wondering how I can get out of it.  I have school work to do, but my heart just isn't in it right now.  What I want more than anything is to just climb back into the blankets and go into the darkness for a while to rejuvenate.  Circumstances of releasing and letting go with love and stepping aside from my own feelings to hear and understand another person have been the prevailing theme.  Doing what's right and what's for the greatest good over any fears or insecurities is in there too.  I know the key is to let the situations wash over me and not let them define me.  There are situations where I am the only one to make the choices and do what's necessary and I have to trust that Goddess believes in me sufficiently to task me to do it.  I am not totally certain Her estimation of my abilities isn't overrated, but who I am to argue when push comes to shove?  It just makes me sound impudent and infantile if I do protest that what I have to do is over my head and beyond my capabilities.  It is that sort of weakness that has created a lot of the circumstances I now have to fix anyway.  Less whining/More action.
It's such a pity I don't drink.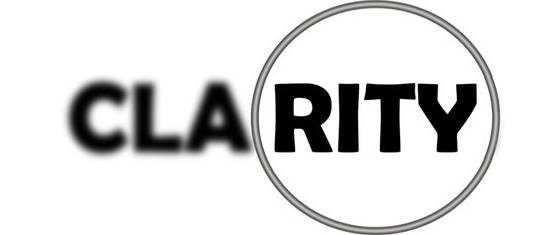 A happy 2013 to all of you!  It has been a long time since I last updated this journal.  I have felt rather private about my life lately and so I have mostly kept to myself other than Facebook posts.  Dark of the Year has been tough for me this time, I won't lie to you. I guess because the past few years were relatively easy in terms of deeper introspection and awareness, I got used to cruising and then this one just knocked me on my ass.   It has been a struggle to take my own advice, the suggestions I give to my Life Coach clients about staying rooted in the present, focusing on one problem at a time, counting the things that are going right, and actively working to let my emotions be like "water over rocks."  This leaves me so grateful for the years of relative calm I have enjoyed and eager to get everything put in its rightful brain place so I can get back to a happier place.  There is a relatively new saying that asserts, "Depression lies."  While I can see the value in that sentiment, I would also say that some of your deepest truths are found in depression if you know where to look.
I have deleted this column easily 20 times or more.  I keep writing and erasing as I further refine the lessons I have gathered from the past few months.  The more I write it, the more I learn and that makes some of what I write obsolete before it even gets posted.  I am going to give this another go and who knows?  Maybe this one will hit the presses – or the next one… or the one after that.  See why it takes me so long to write a book?  I am already on my 10th or 12th edition before the first is even released.
Here's one of my famous metaphors to get this show on the road:  There is a shortcut to my road from the main road that goes up around 1000 feet in altitude over about a half-mile's travel.  The width of the road is just barely 2 cars and there is a big cliff on one side for most of the distance.  At the bottom of the shortcut where it joins the main road, you have to crane your neck back over your right shoulder to see if any cars are coming to kill you as you go onto the main road.  For years now, Eric has asked me, "Is anything coming?"  I will look, tell him, "No," and – get this - he will then look himself to verify.  I have asked him repeatedly why he does this and he always says something like, "Oh, just habit."   o.O   "THEN WHY DO YOU ASK ME?"  "Because I want a second set of eyes!"  It's an ongoing irritation of mine and he still does it to this day.  One day, I was riding with my friend, Jennifer King, and we came to the bottom of Logan's Grade (the shortcut).  She asked me, "Are we clear?" I looked and said, "Yes" and she gunned onto the main drag.  I about had a heart attack.  "WHAT ARE YOU DOING?  YOU ARE GOING TO GET US KILLED!!"  She was stunned by my clearly disproportionate reaction and said, "You said we were clear!"  In that stunning moment of clarity, I realized the stupidity of the situation, but I couldn't see it until I experienced a different situation like someone trusting me and believing that I could look at a road and effectively determine whether or not a car was coming.  I have said it before and I will say it again:  "If you live in Crazytown long enough, they will make you the mayor."  Just because something is what is "normal" for you and you're used to it doesn't mean it's healthy or even "not nuts."  It could, in fact, be very bad.
In the past year or so, I have cultivated some new friendships and they have been a stark contrast to a lot of my existing friendships.  Don't get me wrong. I know some amazing people and I am honored to have them in my life.  I have, however, through nothing more than residual insecurities on my part, created dynamics in some of my friendships that are not healthy.  I couldn't see that until I had something to compare it to and the clarity was just as breath-taking as that moment when I was in Jen's car at the bottom of Logan's Grade.
I was raised in such a way that the sum total of your worth in the world was what you could give to and do for other people.  That has been ingrained into my psyche from an early age on.  I clearly remember a moment when I was around six that my mother picked me up and sat me onto a yellow, metal step stool that she kept by the stove and said, "Well honey, you aren't much to look at, so we are going to have to teach you to cook for you to get a husband."  For the next several months, I would sit on the stool and watch her cook until I could do it myself.  Mind you, the real message of this experience should have been, "In approximately four years, I am going to start going in and out of the hospital a LOT and you are going to have to cook for and take care of your dad and brothers, so watch me."  She would not know that and in the interest of full disclosure, when I was an adult I brought this memory back to my mother and she absolutely insisted it never happened; that she would never, ever say such a thing.  The fact is that I learned to cook from somewhere and the fact is that my six-year-old brain would not have the resources to invent such a memory out of scratch.  I also know that my mother had a brain tumor growing for years that, when it was removed after I was an adult, was approximately the size of a lemon.  No telling what kind of pressure that was putting on vital brain functioning apparatuses in her head.  Regardless, that was one of the ways that what I could do for someone (and how I look) become conditioned in me as important as opposed to who I am in the world having its own worth.
Many of you know that over the past few years, I have been a student of the process of "My shit" and "Your shit," and learning to separate out what problems I need to work on personally and what problems belong to other people and should be managed with a sympathetic tilt of the head, a meaningful "Awwww," and a hug.  Part of MY shit is that I have previously created dynamics in my relationships where I am the giver and nothing is required in return.  I have even laughingly used the words, "Don't worry.  I'm the easy friend.  I'm the soft place to fall."
Where did that leave me, though?
It left me being the one who was the giver and never receiving much back in return.  My friend, Vicky, for instance, will send me a Facebook message and say, "I was going through some things in my house and I found this and thought of you.  Can I bring it up?"  My son, David, will – knowing I'm making a full dinner for Eric, Me, Delena, Dylan, Nathan, Him, Amber (his girlfriend), and Davin (her son) – will bring me a sandwich from Arby's and say, "Here.  I thought you would enjoy this."  My friend, Jackie, will say, "I was going through my jewelry and I'm cleaning out a bunch of it.  Wanna have some fun looking through it to see what you want?"  My friend, Karen, lives in New York and has been without internet for weeks (it feels like years).  She will sit and peck out message on her phone's tiny keyboard (and we are OLD so this is no easy feat) just to maintain contact with me because she values my company.  My friend, Jennifer, that reckless driver who trusted me to, I dunno, see cars coming, handed me a bracelet and said, "Here, I made this for you."  The first few times these things happened, I almost cried.  I was so touched that someone would do anything just for me because they cared and they valued me.  Slowly, I am getting used to people who give back.
Until I experienced friendships where people were there for me on an ongoing basis and gave back to me the way I gave to them, I couldn't see how little many of the people in my life do for me. This revelation was apparent to me just as quickly and intensely as that moment in the car with Jen.  My feelings were a little hurt with that knowledge, certainly, but it passed quickly and mostly I was disappointed in myself.  It made me sad that I thought so little of myself that I did not feel I had anything enough to offer on my own merit. I had to over-extend, over-give, settle for less, and give until I had nothing left to give in order to be worthy of love and friendship.  If I gave and gave, they wouldn't go away and would be my friend always.  If I could be the "easy" friend, they would always be my friend.  These relationship dynamics were fueled by nothing more than my own insecurities and it was certainly not the fault of the other people who would take advantage of what I was perfectly willing to give.   Who could blame them?  I am sure it is wonderfully convenient and lovely to have a friend will dispense meals and readings and counseling and attention on demand, but can be effectively ignored the rest of the time.  The litmus to define this type of relationship is this:  When you are there for everyone else, but find that when you cry, you cry alone, you've got a big problem and honestly, it's not everyone else:  it's you.
To give credit where credit is due, this is something Eric has tried to point out to me for years and I have repeatedly denied was the case.  He has often pointed out that a lot of the people into whom I invest time and energy do not respond in kind.  I would always dismiss his concerns and tell him I was fine… I loved these people and didn't mind giving to them.  He would tell me that wasn't the problem.  The problem is that if you give and give and do not receive, you're going to become depleted and then you can't give to the people who are giving back to you. He would tell me that it wasn't fair and I would tell him that friendships are not about fairness and balance.  He was right.  I was wrong.
These lessons processed over a few months' time, from October until this past week when it manifested into a true depression. My depression was not about anything my friends had or had not done directly, but about the low expectations I set up for myself.  I was vastly disappointed in myself and really thought I knew better than to set up friendships that are little more than an emotional slot machine where you pay in and pay in and pay in on the off chance that you'll hit jackpot and get something back.
I have been working on a book for a year or so now called When I Die, Just Bury Me at the Wal*Mart and it is specifically about the ways that women martyr themselves to their families, often when their families do not need or want them to do so.  The book addresses the detriment and toxicity of resentment and how it contaminate relationships when expectations are placed on people without their consent or knowledge.  I had never thought of extending this concept to friendships, but it makes perfect sense that if you have a particular dynamic in a few of your interpersonal relationships, you will probably develop that same dynamic in their other close relationships.  That was quite an "Aha!" moment.
Often, when I write about something painful in my journal, it is so I can bleed all over the paper and purge myself and "get it out."  Just as often, I find that once it's posted, messages pour in from people saying, "I DO THE SAME THING!" and thanking me for shining a light on the problem.  I don't write these columns for that purpose, but it sure is nice when someone connects with what I've said and then neither of us feels quite as alone in the problem.
On the off chance that this is happening now, I want to include a list of indicators that spring into my mind that could indicate that you are sucked into an imbalanced relationship.  Let me know how many of these feel familiar to you.  Who knows?  You might even be guilty of them and need a wake up call.  Let's hope that in either case, we are all self-aware enough to know our own frailties and course correct, making adjustments as needed to create healthier dynamics in our friendships.  Always remember, though, how easy it is to fall back into the same, familiar behaviors again.  You have to remain mindful and really live with those changes to make it work. Sadly, sometimes it involves distancing or even ending an unhealthy relationship to save yourself, just like amputating a part of your body that cannot be healed and is endangering your life.
Ask yourself:
Does your friend go weeks or months at a time without contacting you and then get in touch with out as if no time passed and expect that you have been patiently waiting for their return?
Do you have to presume that your friends appreciate and respect you or do they tell you and show you on an ongoing basis?
Does your friend ask you or expect you to provide professional services for free or at a discounted price without without offering any kind of compensation in return?  If you mention the price you normally charge for such services, are the suddenly no longer interested in receiving the service?
If you prepare a meal for your friend, do they clean up after the meal is done?  Do they cook for you as well?
If you go out to eat with your friend, who pays?  Do you split the bill or trade off expenses fairly and equally on an ongoing basis?
Does your friend engage in bullshit competitiveness with you in order to feed their own ego?
Does your friend ignore obligations to you and cause you to have to contact them to find out why they did not do what you agreed to do or get a status update?
If you are involved in a project with your friend, do they invest as much time, energy, and effort into the project as you do?
Is your friend available enough to you on an ongoing basis that you would feel comfortable calling or messaging them if you need emotional support?
Is your friend in your life because they feed your ego in some way (you're prettier, smarter, wealthier, etc and enjoy seeing the contrast)?
Would your friend be comfortable bringing you into their other social circles or are you isolated to a safe place in their life?
Do you ever feel as though you must explain away your friend's behavior or lack of equity in the relationship?
If you open up to your friend about what you need in a friendship or tell them that something they did hurt hurt you, do they apologize and then go back to "business as usual" or do they apologize and genuinely course correct to change the hurtful behavior? Do they make amends and truly seem to hear your words?
When you do speak to your friend, is your conversation more about you or more about them?
Does your friend ever acknowledge their behavior and say, "I'm sorry.  I have been a bad friend.  You are important to me and I want to be a better friend to you if you will give me a chance" if they have been a slacker friend and then truly change their behavior to be a more conscientious friend?
Do you truly feel important in your friend's life and know that they value you as a person or do you feel like an afterthought?
As I have taken these things into consideration and looked at some of the patterns of behavior in my long-term relationships, some have come out shining and some have truly been lacking in mutual support.  I know that any time you change a relationship dynamic and shift what you expect from a person, it is a challenging experience for everyone concerned.  Far from pointing fingers or blaming anyone other than myself, my resolution to this issue is that I will embrace the friendships that fulfill me and give back as good as they get.  I will invest my energy into the friendships that are balanced and strong.  I will acknowledge that I need equality in a relationship and that I am worth that much.  I will not offer to anyone what I will later resent.  I will not place expectations on someone beyond what they have demonstrated they are able to give, but I will not take close to me people who are a one way street.
That means re-establishing some dancing distances and the good is that this can mostly be done in your head without really troubling anyone with some grand pronouncement.  You simply stop being available to the people who want things from you unless they are offering a reasonable compensation and you invest your time into the people who are there for you on an ongoing basis.  To illustrate, I have created a sort of Veng diagram to show who gets in my inner circle: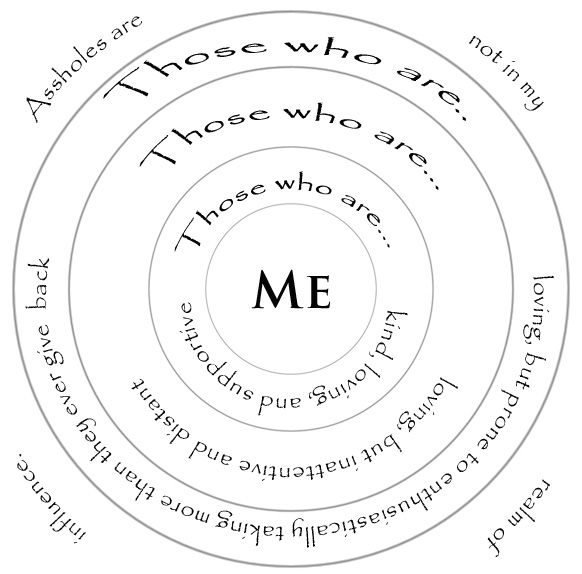 Thanks to Professor Hayes for teaching me how to type on a path.
I am now officially demanding more from my relationships.  I want friends who are going to be there for me on an ongoing basis and if they are wrapped up in life or other stuff, will make a point to let me know, "Hey, I'm going to disappear for a bit, but I'll be back with stories to tell!  You're important to me and I want you in my life."  Anything less and I will presume the person is letting me know that they are intentionally backing off from me and I will release them with love and blessings.
I want friends who are invested in me and value me for who I am, not what I can do for them.  I am not an overly needy person and I do not require a great deal of hand-holding.  I don't need any stalker people to track my every move and call me every day.  In fact, I hate the phone passionately.  I'm an email person. I do, however, need people who are willing to be there for me as much as I am there for me.
I need friends who do not take me for granted and who appreciate having me in their lives.  I don't need to be tolerated by anyone.  If you don't like me, I'm good with that.  Goddess bless ya.  I do not work aggressively at "fixing" relationships.  It's working or it's not.  Unless you are paying my bills, I don't pacify.  I don't keep people around to take up space.  My goal is to surround myself with people who genuinely like being in my life.  I want to be in friendships where we walk away from our visits with both of us feeling blessed to know the other one.
All of this is not to say that I am leaving behind the friends with whom my dynamic is less than healthy.  I am simply pulling back my energy and letting things work out as they will.  I have to do what I always advise my clients to do (do as I say, not as I do, people), which is to never give more than I can give without resentment.  I am not attaching expectations onto what I give, so if I offer something to you, do not believe that there are strings attached and look back on this journal entry and feel uncomfortable.  On the contrary, it means that I am offering it to you with my whole heart.  On the other hand, if you ask me for a generosity or a consideration, please do not be offended if I say no.  It simply means that I do not have enough to give at that time.  It's not a lack of love; it's a lack of resources.  These are all lessons I already know. I just have to get back in touch with their value and re-institute them into my life.  I have to think enough of me that I keep my reserves up and do not give more than I can afford to let go.  I have to think enough of others that I do not place expectations on them that they are not prepared to fulfill.
So that's that part.
*~*~*
Aside from all of that processing, life changed a good bit during 2012.  In August, my 8-year-old grandson, Aiden, spent a good bit of time with us while his dad worked and looked for work.  It was a child care situation.  Aiden is a very sweet, but very angry young man and it was challenging.  It was also very, very expensive and that and Christmas have left us in a temporarily financially compromised situation.  We thought that more help would be coming than what did, but situations conspired in such a way that neither his mother nor his father could contribute to his upkeep during his time spent with us.  His mother has not contributed anything since she lost custody almost a year ago, so that was no surprise.  Aiden went back to live with his dad again on December 23 as planned and is doing well.  He is happy to be back in his old school again.  He wore me out and I was like a limp washrag by the time he left. I love him to pieces and I am so grateful for the closeness we forged while he was here.  It did, however, take every ounce of energy I had to keep going during that time.  There's a reason mothering is left to younger people than I am.
The tension and stress of the past several months has been incredible and they all seemed to culminate in late November and throughout December.  I've spent the last 2 weeks trying to shake off the ick of those months and find my footing again.  People continually ask me, "What's wrong?  Are you OK?  What's wrong?" and I cannot seem to come up with a kind answer to that.  Like the natural disaster I mentioned early in this entry, I just don't know where to start.  I'm just done.  I've been working hard to rebuild my resources and feel somewhat like me again.
That right there is my goal for the next few weeks, along with my weight loss focus that is documented at www.katrinarasbold.com/fatastic.
I am sure you can see why all of this was hard to get out there and hard to put into words that did not convey a harshness I do not feel.  It simply "is" and I have to fix it in such a way that I can live in my own skin.  Thank you for reading.