I am excited to announce that the third book in the "Seven Sisters of Avalon" series released today on Amazon.com. Book four, Iris of Avalon, is scheduled for release in Fall 2016. In the interim, an updated edition of my flagship book, Energy Magic Compleat is in the works. This edition will include lots of new discussion on the subjects covered in the original version. Also releasing within the next year is the first in a modern day fiction series called (working title) The Southern Conjure Woman Series. I am eager to start writing this new series. Writing period pieces such as the Avalon books is research extensive and research is exhausting and thankless because you never really get it completely right. The new series will be for fun. That is the next year of my work that is scheduled for release. I will keep you posted here. Meanwhile, here are links to the new book that released today, as well as the two books in the series before it. I hope you enjoy them and come to love my girls as much as I do: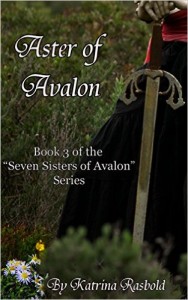 In one of the darkest times of Britain's post-Arthurian history, seven priestess sisters left Avalon on a sacred mission to do their part to bring peace and safety to the Goddess worshiping people of their country. Each sister has their own royal target to engage and in their own special way, walk the path The Goddess has laid before them to protect Her people. In this volume, weapons and battle aficionado Aster goes to Hadrian's Wall to intercept King Urien and his sons who are waging war against the brutal Saxon warlord Aethelfrith. Aethelfrith has cut a bloody and burning swath through Britain and even Saxons are shamed by his vicious, brutal attacks. After months of battle, Aster is sent on a very special mission and that is where her real story begins. In an epic story of love, loss, victory, and compromise, Aster embarks on a high adventure to fulfill the task laid upon her. In the process, she meets a vibrant cast of characters who challenge her beliefs about the people she was taught were her enemies. Return to Avalon…you will be glad you did.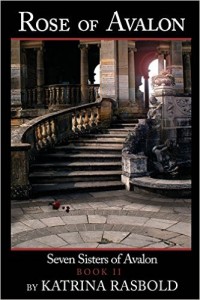 Readers loved book one of the series which told the epic tale of two couples: Bran and Lillian and Phillip and Ophelia, two magical families joined together in a campaign to preserve the safety and freedoms of the Goddess worshiping people of Britain as it slipped into the early Dark Ages. Bran and Lillian's seven daughters are now grown and begin their quests into the seven kingdoms of Britain to return magic to the land and liaison with the country's leaders to protect the people of the Goddess. In this volume, the fiery haired Rose goes into North Wales to meet with the reclusive King Jacob Rowan who no one has seen in many years. What she finds there is as much a magical journey for herself as it is for her quest and a whole new world opens up for her. Filled with adventure, passion, humor, and magic, this book will pull at your heart strings and take your breath away with its exciting and sexy story of a beautiful priestess who meets a king well in touch with his animal side. Although Rose of Avalon stands on its own as a beautiful, fast-paced story, but the reader's enjoyment of the series will likely be enhanced by reading The Daughters of Avalon first.
This is an epic saga of two families living at the dawn of the Dark Ages who are brought together not only through the power of magic, but by love and passion that survives through many lifetimes. Together, they work to restore Britain to its glory, battling against political opposition on all sides as the country sinks deeper into despair and oppression.
In this series, you will revisit some of your favorite "fairy tale" stories from the past with a new and "grown up" perspective. As these champions of the Old Ways struggle to bring magic back to Britain, you will find yourself immersed in their sacred, and sometimes dangerous, world.
Daughters of Avalon is a story about the inter-connectedness that touches us all and how the fine strands of circumstance bind us together in an intricate and interwoven dance of life. Bran, The Merlin of Britain Reborn, and the love of his life, Lillian, who is The Lady of the Lake, work to assure the safety of Avalon and the people who practice the Old Ways on the mainland. Working aggressively to end the rampant persecution that took hold after the death of Arthur, they find a unique and unusual way to propagate the return of magic throughout the land.
This is book one of the series Seven Sisters of Avalon that follows the secret ambassadors of Avalon out into the world to preserve the sanctity of magic and find their own adventures in the construct of some of our familiar childhood tales. Enjoy these familiar stories told as you have never heard them before, set against the backdrop of ancient Britain.